1932 bank robbery ends with Christmas tragedy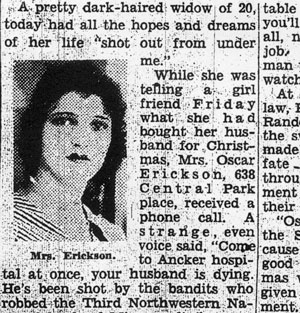 As 1932 wound down and the Great Depression deepened, an unemployed St. Paul man was elated to land a job selling Christmas wreaths door-to-door.
That's what 29-year-old Oscar Erickson was doing in the neighborhood west of Como Park on the afternoon of Dec. 16, accompanied by a friend, Arthur Zachman, 22. Little did the two suspect that fate would soon find them crossing paths with a band of violent criminals.
For at the same time, the notorious Barker-Karpis Gang was robbing a bank on East Hennepin Avenue in Minneapolis of $20,000 cash and another $100,000 in negotiable securities, killing one policeman and leaving another mortally wounded. One of the gang's own bullets had punctured a tire on the getaway car, so their progress was impaired as they fled east, first on Hennepin and then Larpenteur Avenue.
The tire came off completely at Snelling Avenue and Larpenteur and the stolen Lincoln limped into Como Park on the rim, stopping near what is today the Como Town amusement area.
The gang proceeded to transfer its loot to a Chevrolet sedan stashed there. Driving into the park on her way downtown and seeing the disabled car, Mrs. Winifred Williams, 1400 Midway Parkway, stopped to inquire if she could help. "Scram," she was told.
Erickson was not so lucky. Arriving shortly thereafter, with Zachman in the passenger seat, he slowed down to stare at the suspicious-looking men. Gang leader Fred Barker, according to later statements by confederates, became enraged and fired several times, hitting Erickson in the head.
Erickson slumped in the seat and the car continued its forward momentum, with Zachman guiding it to a stop out of sight of the gunmen. He then took the wheel and drove the bleeding and unconscious Erickson to the police station at University Avenue and St. Albans Street.
From there, a police ambulance took Erickson to Ancker Hospital near downtown. He died in the early hours of the next day without regaining consciousness, with his 20- year-old wife, Delvina, at his side.
Barker was never prosecuted for any of the Dec. 16 murders and remained at large for several more years, dying in a shootout with federal agents in rural Florida in early 1935. (His mother perished with him and it has been alleged that FBI boss J. Edgar Hoover conjured up the sinister persona of "Ma" Barker to forestall adverse public reaction.)
The Twin Cities was a haven for criminals during Prohibition. In St. Paul, the understanding was that police would leave the crooks alone as long as they behaved themselves while in town. They didn't hesitate to raise havoc elsewhere, however, and it became common for newspapers across the Midwest to note that bank robbers were last seen "heading in the direction of St. Paul."
But the robbery of the Minneapolis bank and the police killings showed that criminals such as Barker were no longer honoring the agreement. As a crime wave ensued, citizens grew increasingly angry about the thugs in their midst. For one thing, it became apparent that the crooks were better armed than the police force trying to control them.
Erickson's widow told reporters that she and her husband had been married for two years and had no children. She said Oscar was a native of Willmar, Minn., having come to St. Paul in the early 1920s. On that Friday, he had left their apartment near the State Capitol in high spirits because he had finally landed a job after months of unemployment, last working as a railroad dining car attendant.
"He had just been let out of St. Joseph's Hospital, where he had an operation for appendicitis," she said. "We had so many doctor bills and other things to meet. Yesterday noon it seemed that things finally were straightening out for us."
Instead, Mrs. Erickson buried her husband in Roselawn Cemetery and moved in with a sister in Minneapolis while she looked for a job as a telephone operator.
Roger Bergerson is a regular contributor to the Park Bugle.
This article was made possible in part by the Arts and Cultural Heritage Fund through the vote of Minnesotans on Nov. 4, 2008. Administered by the Minnesota Historical Society.