A persistent vision: New book explores life and art of 94-years-young Bettye Olson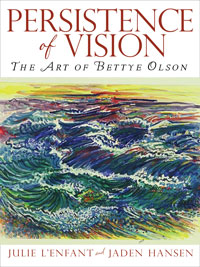 By Jason DeMoe
It was 1923 when Emil and Irene Johnson welcomed daughter Bettye into the world at Norwegian Lutheran Deaconess Hospital and subsequently brought her home to their Powderhorn Park apartment in Minneapolis. Little did they know that Bettye would grow to become one of the most influential Minnesota artists of the 20th century.
In "Persistence of Vision," a newly released book detailing Lauderdale resident Bettye Johnson's life and art, co-authors Julie L'enfant and Jaden Hansen provide a thorough birth-to-present examination of the artist who has been compared to both Vincent Van Gogh and Emily Carr.
Bettye Olson is a lifelong resident of the Twin Cities who received bachelor's and master's degrees in art education from the University of Minnesota with summer sessions at the University of New Mexico in Taos and the Cranbrook Academy of Art in Bloomfield Hills, Mich. Boasting an art career that spans seven decades, Olson has held 56 one-woman shows, including a retrospective at St. Catherine's University in November 2006. That show was curated by associate art and art history professor Patricia Olson, who also wrote the forward for "Persistence of Vision."
"Each of Bettye Olson's artworks is but a single image in the prolific flow of her distinguished body of work," Olson writes. "Her art documents the authentic response of an artist compelled to carefully observe the incredible world around her."
"Persistence of Vision" is broken into eight chapter's worth of an examination of Bettye Olson. Each of those chapters explores a different set of years of her life. The book opens with 1923 to 1945, moves on to 1945 to 1949 and then provides six decade chapters: 1950s, '60s, '70s, '80s, '90s and 2000s.
One focal point of the book is the fact that Olson persevered as an artist and never stopped creating even during a time when many believed wife and mother were the only two acceptable things for women to be and art was referred to as nothing more than a hobby for even the most serious of female painters.
"Who can say that the art world didn't change but for the persistence of women artists like Bettye, who kept submitting their work to exhibitions and competitions, visiting art colonies, all the while so busy that they sometimes had to paint in the bathroom at night after the kids went to bed," wrote Kristin Makholm, director of the Minnesota Museum of American Art, in the introduction to "Persistence of Vision."
Although the book does weave an interesting truth about the life and times of Olson by providing vivid details in text, the artwork and personal photographs heavily peppered throughout the pages also speak to her enduring legacy while providing the reader an intimate look at the different phases of her life. From watercolors to acrylics to ink wash and charcoal work, Johnson's efforts come to life on the pages. Also, 70 years worth of personal photographs from Minnesota to Washington to New Mexico to London to Italy and beyond provide a pictorial history lesson that provides for a welcome addition to the book.
"Persistence of Vision" is available through Afton Press at goo.gl/8gpJS4.
Paintings are included in the collections of the Weisman Art Museum, Minnesota History Center, Minnesota Museum of American Art, St. Catherine's University, Augsburg University, Luther College, Concordia College, St. Olaf College, Pillsbury, Thrivent, 3-M and others, including private collectors—national and international.