Aikido Center settles into new digs above co-op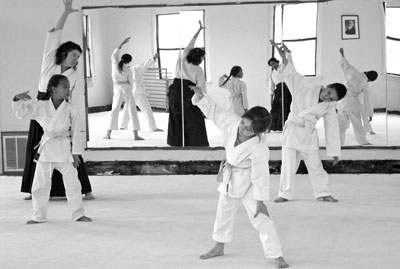 Students at the Twin Cities Aikido Center practice in the center's new location above Hampden Park Co-op, 2382 Hampden Ave. Here, Kathy Aguilar-Downing and Vickie Selep work with students in the space that had been a ballroom dance school until recently.
The Aikido Center moved from its longtime location at 2390 University Ave. in late March after the building was sold to Exeter Group, which owns C&E Lofts, 2410 University Ave. Representatives from Exeter attended the March District 12 Land Use Committee to present plans to build new market-rate apartments where the Aikido Center, armored car company Loomis and Gremlin Theatre had been housed, next to C&E Lofts.
The Aikido center opened for classes at the new location in early April. Founded in 1976 by a group of University of Minnesota graduates, the nonprofit organization opened on University Avenue in what had been a truck showroom. TCAC has grown to be the largest Aikido group in the region, offering at least two adult classes per day, seven days a week, as well as two youth classes per week.
You can find out more at tcaikido.com.