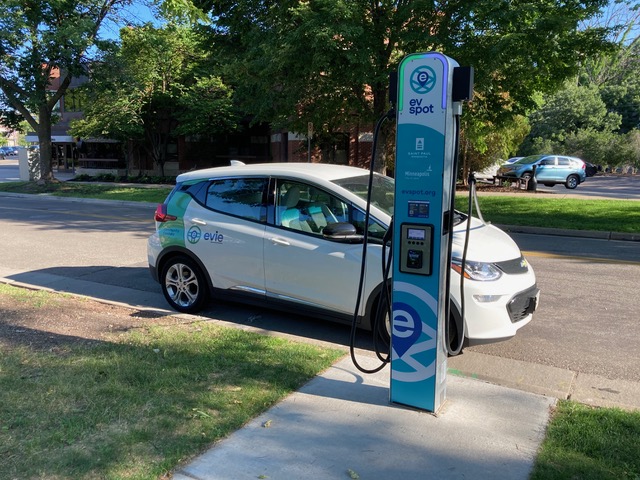 At monthly Transition Tap; neighbors sip, ideas bubble up
By Allie Rykken
At a Transition Town meeting about a decade ago, I joked that getting together to talk about climate solutions, while it sounded like a good time to me, could be intimidating or "not fun" to some folks, and that maybe we needed a monthly brewery outing to balance things out.
I learned that suggesting an idea often means taking the lead on it, but that was a happy lesson because we've had many wonderful Transition Tap gatherings since.
This summer, the Tap meets from 5 to 7 p.m. on third Fridays at Bang Brewing. And we're inviting guests to come talk about a climate topic they specialize in.
In June, Matt Privratsky from Nokomis Energy joined us. His accomplishments include co-founding the women's soccer club Aurora FC, but he also knows a whole lot about electric vehicles (EVs). About a dozen folks came to the Tap to ask questions and talk about the future of the industry, and here are a few takeaways.
Electric vehicles: An informal Q & A
Q. Electric cars have a mixed image: They seem kinda flashy and expensive, and manufacturing them still extracts a whole lot of minerals and materials, particularly for those big batteries. And the charging! Are they worth the fuss?
A. Electric cars are reaching a tipping point where they make economic sense to serve the average consumer. They also make climate sense, emitting just a quarter to a third of the carbon pollution of gas-powered cars, and industry leaders are working on using more common materials in EV manufacturing.
The extraction for EVs is small compared to the extraction for fossil fuels, and materials are recyclable. On the cost front, government rebates are in place for EV buyers, as well as lower rates from Xcel Energy for overnight charging.
There are a growing number of models, such as a Ford F150 truck, and affordable options with faster charging, like the $30,000 Chevy Equinox coming out with a 300-mile range.
Electric cars get less wear and tear than gas-powered ones, which means less maintenance. Some, such as the Hyundai Ionic S, have the capability to transfer energy to the grid. The vehicles also have a smoother ride with a lower center of gravity.
Q. What about trip planning?
A. Apps like PlugShare make trip planning easier and allow users to leave feedback on charging sites. A typical rest stop takes 20 to 45 minutes to charge, and recharging station locations are increasingly attractive, near restaurants or parks. As of this spring, many more EV brands have access to Tesla fast chargers.
Q. What's the deal with Evie, the electric car-sharing program?
A. Successful! Reports say it's very usable, has progressive pricing, is intentional about serving marginalized communities and is continuing to expand its charging stations. (Curbside chargers for Evie cars are often paired with public chargers for any EVs: see the pairings outside the St. Anthony Park Library at 2245 Como Ave. and also near the Raymond and Westgate light-rail stations.)
Bonus facts: The EV trend isn't just for cars— fleets of electric school and city buses are coming. Other perks: for everyone who breathes, the air will be remarkably cleaner. You'll smell the difference on our streets!
What's on tap next?
After our July guest Betty Lotterman shares about her car-free, low-waste, garden-rich lifestyle, the Tap will welcome:
Matt Hass, new manager of the Hampden Park Co-op, on Aug. 18.
Christine Baeumler, U of M professor and co-creator of Backyard Phenology, on Sept. 15.
We'll meet at Bang Brewing, 2320 Capp Road, 5 to 7 p.m. Bang serves organic beers and other beverages; artisan pizzas are baked on site. Check the TT–ASAP Facebook page for updates. All are welcome!
Allie Rykken is a mother of two and outdoor enthusiast who works for the Loppet Foundation and aspires to a much smaller carbon footprint, one step at a time.