Blomberg Pharmacy closes on Hamline Ave.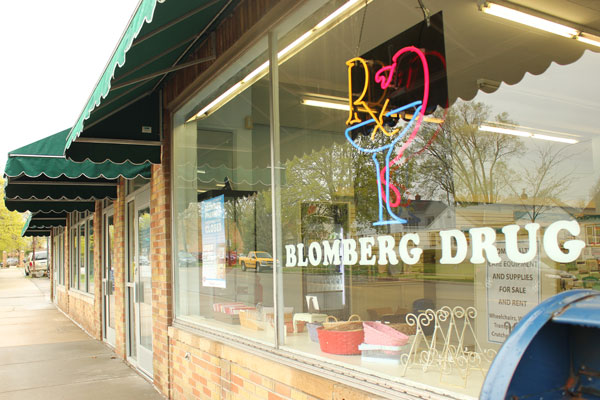 A fixture in Falcon Heights and the Como Park neighborhood for more than 70 years, Blomberg Pharmacy, 1583 N. Hamline Ave., has been sold to Walgreen's.
"It was the right business decision but will never be the right heart decision," co-owner Richard Zunker said. "I would have preferred to have stayed here for the next 20 years."
The pharmacy closed on Wednesday, April 27, but the store will be open through the end of May to liquidate its stock of greeting cards, giftware and medical supplies. Zunker and partner Robert Koziol do not own the building, but have a lease that runs through November.
Koziol is planning to retire but Zunker, who is 48, is taking a position at a friend's pharmacy in Blaine.
Zunker and Koziol bought Blomberg's from Julie Johnson and Norma Nisle eight years ago. They were the fourth owners of the pharmacy, which opened in 1943. Zunker and Koziol also owned Erickson Drug in Lakeville, which they also sold to Walgreen's.
Closing Blomberg's wasn't an easy decision, Zunker said, but with customers being pressured by insurance companies to get their prescriptions filled through mail order and the increased paperwork resulting from the federal Affordable Care Act, small independent drugstores are being squeezed, he said. Insurance companies are offering "zero co-pays," something his store and other independents can't offer.
It doesn't help that large chains have moved in and the "younger generation doesn't see the value in small independents," Zucker said.
Erickson Drug was the last independent drugstore in Dakota County, "and that's a pretty big county," he said. "Sooner or later all that will be left are big chains. I guess all good things must come to an end."
"We thank everybody for the business they have given us over the years, but it wasn't enough because of factors out of my control and out of the patients' control."