Book chronicles rise and fall of Victory motorcycles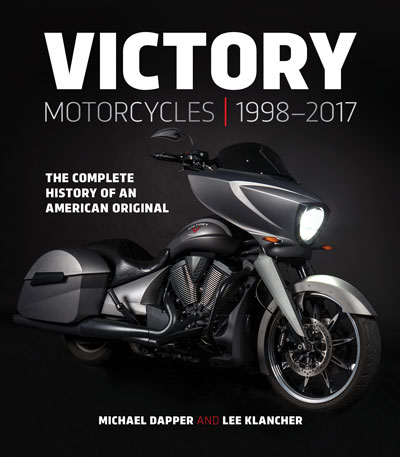 Heads up Victory motorcycle fans: A complete history of the underdog cruiser motorcycle brand is coming out in April. "Victory Motorcycles 1998– 2017," by Como Park writer Michael Dapper and his colleague Lee Klancher, is being published by Octane Press of Austin, Tex.
The 192-page book is billed as an "insider's view" of how Victory developed its first model, the V92C, along with detailed descriptions and photos of every subsequent Victory model, from start to finish.
In the mid-1990s, Dapper and Klancher were granted access to Victory engineering and testing. In 1998 they published "The Victory Motorcycle," chronicling the birth of the brand and development of the first Victory model, the V92C. That book is reproduced in full in "Victory Motorcycles 1998–2017," along with complete coverage of every other Victory model. The book includes previously unpublished photos, styling renderings of senior industrial designer Mike Song, production numbers not previously revealed, behind-the-scenes stories, a complete list of paint colors for every model, and a recap of the brand's business success and eventual demise.
In 1997, Minnesota snowmobile manufacturer Polaris introduced Victory Motorcycles as its first on-road vehicle division. While Polaris was successful, its Victory brand was an underdog that struggled to take market share from the giant in the room, Harley- Davidson. The Victory brand ended in 2017.