College Park mystery solved
A few strollers and dog walkers who trekked through College Park in St. Anthony Park early in the morning of Sept. 30 left scratching their heads after spotting an array of wooden benches scattered through the park. Each bench sat facing a tree.
Was it some arboreal art installation? A meditation group's setup for the next meeting?
Turns out, the benches came from Murray Middle School and were used during teacher Tim Chase's environmental science class.
"We were starting our journals for class," he said. "I had the students take an acorn and throw it into the unmowed areas of the park. They were then asked to write a story of what happens to the seed.
"It was a writing assignment, but I wanted them to include drawings or pictures to help explain their story."
The benches were a gift to Murray from Philip Chervenak, who as an eighth-grader last year at the school proposed an Eagle Scout project that supported Murray's outdoor classroom both at College Park and in the courtyard area at the school.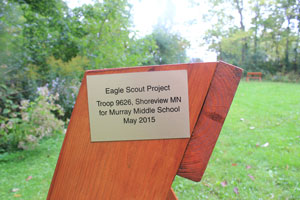 Chervenak worked with school staff and Chase to understand the needs for the outdoor learning space, then raised the funds and received material donations for the project. He and fellow Boy Scouts from Troop 9626 at St. Odilia Catholic Church in Shoreview built the benches and donated them to Murray in May.
Chervenak, now a freshman at Como Park Senior High School, received his Eagle Scout award on Oct. 10.