Commentary: The red house on the hill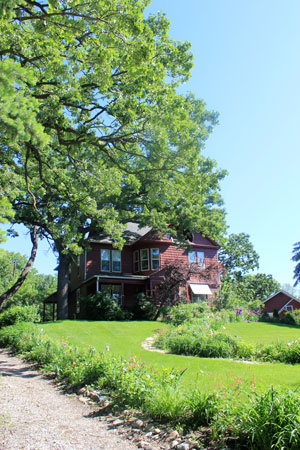 Thousands of veterans were still returning home from the war in the Pacific in 1946. The first hour-long entertainment program premiered on TV, and future president Bill Clinton was born. That was also the last year that one of the most iconic homes in St. Anthony Park was put up for sale.
After more than 66 years, the prominent 19th-century Victorian house at 2239 Gordon Ave., the home of siblings Paul and Ann Brey, is once again for sale. The "red house on the hill" has always held a compelling attraction for me.
Growing up in St. Anthony Park meant spending as much time as possible in the shadow of the red house, kicking-about at Langford Park. And as a vestige of those times, turning 12 meant I was ready to shoulder a Pioneer Press paper delivery bag. My assigned route ran only as far south as Carter, but I frequently substituted on the adjoining route that included Gordon Avenue. I'd cheat the long walk up the hill in the front yard of the red house as best as I could, giving the paper a good final heave to launch it up as close to the front porch as possible.
Sure, I was lazy, but there was also the element of fear. This same fear also gripped my buddies and me every year during Halloween.
While our sole mission was to knock on as many doors as possible, we faithfully skipped the red house on the hill. It was always dimly lit, mysterious and just plain scary. Framed by bare and crooked autumn oak limbs, the ominous third-floor balcony evoked the image of a witch lying in wait, about to dispatch her flying monkeys as soon as we reached the door.
If only we knew. . . .
A number of years later I met and married a girl named Denise DuBruil, and it came to pass that Denise was also Paul and Ann's niece. In the 35 years since, the red house on the hill has become an integral and treasured part of our lives.
In 1887 the property was purchased by Sarah and Isaac Cheney and they completed the home in 1891 following three years of construction. A millstone left behind by subsequent owners, members of the Washburn family, still adorns the backyard, a 1920s-era relic of the old Washburn-Crosby Mills, forerunner to General Mills.
The home was also owned for a time by John Rockwell, a former high-level official with the Minnesota Department of Education. The story is told that Rockwell ultimately lost his position because he protected several of his employees by not disclosing his prior knowledge that the employees dared to support a truckers strike in the 1930s.
Elizabeth Brey, Paul and Ann's mother, purchased the home and the two adjacent lots in 1946. Elizabeth had just lost her husband, Frank, to cancer. She was one of the earliest graduates from a professional nursing program in Minnesota and needed gainful employment to support her family. With six children to care for, her arrival in St. Paul from the small farming community of Wabasso, Minn., was a move of necessity.
Frank Brey was a 1910 graduate of the University of Minnesota medical school and was a pioneer in the practice of medicine. His life's work is featured in the book Country Doctor and City Doctor: Father and Daughter, written and published in 2006 by Paul and Ann's sister, Theresa Brey Haddy.
Theresa, also a physician, told nieces and nephews for decades that there was a real human skeleton in the second floor of the original carriage barn, now a garage in the backyard. This legend seemed a useful ruse to keep kids away from all the stuff stored in the attic. But the legend was revealed as fact about 10 years ago when it was decided that the skeleton, an authentic teaching specimen given to her by an anatomy professor, required a final and legally proper disposition.
In all, after more than 120 years, the red house has been home to only five owners. For the past seven decades Paul and Ann have been active in the local community. Ann's cascading front-yard gardens are well-known and have been part of past home garden tours. Poster children for the Greatest Generation, Ann and Paul are among the kindest and most generous people with whom one could ever be acquainted.
Even dating to their earliest years in St. Anthony Park, their house has been a temporary home for many local and visiting university students, leading to lifelong friendships stretching as far away as Spain and Korea. All that is the essence of family virtues, generosity, kindness and love has been nurtured within the walls of the red house on hill.
So much for the youthful notion of witches looming behind the balcony. It is sad to see our family's presence in this special house about to come to pass after so many years. Denise's earliest memories, and those of our five now-grown children, were the adventures of playing in the attic. Ann and Paul remain in good health.
Those with deep roots in St. Anthony Park understand that continuity and longevity are essential parts of the fabric of a strong neighborhood. The cherished memories of this house will be with my family forever.
But in all honesty, "Uncle" Paul's generosity is not without fault. He has always been predisposed to over-serving the few who dared to knock on his door on Halloween.
If we only knew.
Philip McDonald grew up in St. Anthony Park and graduated from Murray High School, where he met his wife, Denise. They live in Roseville.