Como students' anthology explores identity and culture
 By Ned Leebrick-Stryker
For six months of their inaugural year of high school, 41 ninth-graders at Como Park Senior High School collaborated with the Mid-Continent Oceanographic Institute, a nonprofit on University Avenue that teaches writing skills to under-resourced students, to create an anthology of poems and prose called "Adventures Within Another."
"We began the project by creating a community of learners and writers," said Risa Cohen, the English teacher whose students created the book. "Each of us shared an artifact that represented our individual culture and community and explained what made it important to us. These artifacts became the focus of the first essay(s) students wrote for the book."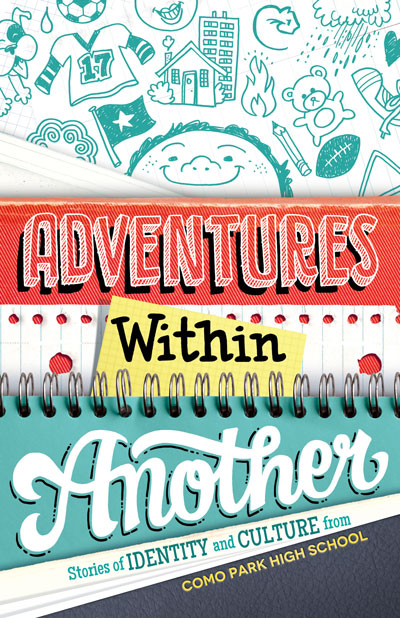 The Mid-Continent Oceanic group proved to be a boon for the Como students. "[They taught me] that if I put my mind to it, I write something beautiful," said Reebar Htoo, a member of Cohen's class. Htoo's poem "If you were here with me," offers a bittersweet look back on an old memory, something the students were encouraged to do by the organization. Students had an opportunity to explore emotional situations that aren't commonplace in a classroom.
"[In my] writing, I got to explore my grandparents and my hometown," said student Ktru Moo, whose poem "Where I'm from" explores a rich ancestry.
The students' writing came from a personal place, Cohen explained. She guided students to choose topics and write about experiences that were meaningful to them. Working collaboratively with their peers on brainstorming exercises gave them a framework for their writing, she said. "(Students learned) how to write about memories, and they learned about life and everybody's story."
The students were ultimately the creative guides of the book during the creation process. "They learned how to work in a group to create a published book, especially coming up with the title and the cover design," Cohen said. That gave the students the experience of having their names and work in a published book.
"Adventures Within Another" can be purchased at the Mid Continent oceanographic Institute's online store at moi-msp.org.
Ned Leebrick-Stryker is a student in the School of Journalism and Mass Communication at the University of Minnesota.
Where I'm From
By Ktru Moo
I am from where the rice is grown,
The weather is fresh, under the feet.
I'm from under a leaf, blanket, and covers,
Smiling face and fire burnt the candle.
I'm from where birds flew away to settle.
Like a seed under soil that needs water.
I'm from this little hand can pray,
And faith lead us like water.
I'm from houses, not a home, and crawling with feeling.
I'm from eight lives, eight minds,
Eight hearts and smiles.
I'm from "don't sing while you eat"
Or the tiger eats you.
I'm from the wind singing, leaf dancing,
And "things don't last forever."
I'm from under a roof but not under a roof,
And even permanent marker doesn't last.
I'm from Hill Tribe house, made of bamboo,
Dirt, leaves, and smoke flying.
I'm from spicy food, wheat fields, green forest,
And strong root.
I'm from looking up at the moon, wishing on a star,
And moving on.
My family is like a watered flower.
When the flower is grown it becomes lovely, beautiful,
And it feels special like a dead tree still growing.
We are a blast of brightness,
To know it is a blessing from God,
Whether we are close or far,
We are a family in love like moon and star love each other.
Ktru has a cat name Grey. They live with their parents and enjoy playing soccer.
This poem is reprinted from "Adventures Within Another: Stories of Identity and Culture from Como Park High School."