Do you recognize this World War II soldier?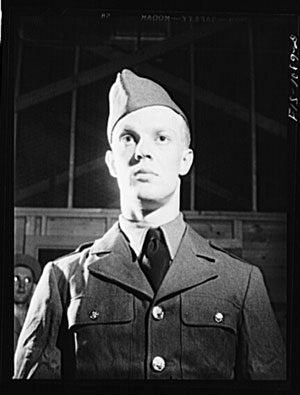 In 1942, the U.S. Office of War Information sent well-known photographer Jack Delano to Minnesota to capture the impact of war on the people of the state. Delano took many pictures of the young man pictured here.
The man was photographed as he enlisted, said good-bye to his family and was transformed into a U.S. soldier. The pictures were eventually sent to the Library of Congress American Memory Website, where the soldier is identified only as a "Swedish-American enlistee from Minnesota."
Recently, Judy Woodward, history coordinator of the Ramsey County Library and a Park Bugle writer, was looking for images to illustrate a fall series of World War II programs at the library.
"When I found these pictures, I thought they really captured the patriotism—and the uncertainty—of a young man about to leave his quiet home for the battlefront," said Woodward, "but I was also intensely curious about the man. Who was he? Did he survive the war? What happened to him?"
If you have any information about the soldier or his family, please contact the library, 651-724-6001. For more information about the series "World War II—A New Look at Total War," visit the library's website www.rclreads.org.