Donna Swartz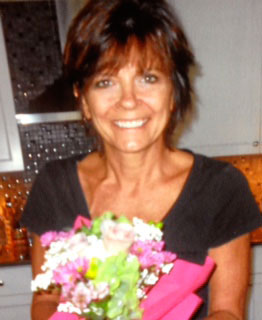 Donna K. Swartz of St. Anthony Park passed away peacefully on Saturday, June 13. She was a gift to family, friends and her "work family" at HealthPartners, where she was known as an inspirational leader. Her positive attitude influenced everyone, and she relied on it the most in her two-and-a-half year fight against metastatic Her2 positive breast cancer.
She was preceded in death by her mother, Judith Picardi, and brothers-in-law, James Swartz and Dan Nooe.
She is survived by her loving family: husband, Krag; daughter. Olivia; stepdaughters, Trudy McClinitic and Kristin Swartz; granddaughters, Laura and Lily McClintic; father, Albert Picardi; stepmother, Susan Picardi; sister, Anne Nooe; brother, Alan Picardi; and a host of cousins, nieces and nephews.
Donna is remembered most for her winning smile, her creativity, her fresh perspective, her strategic insight, her lush gardens, her design sense, her home décor touch, her marathon shopping energy and always, always her ability to "put it all together."
Her family has the deepest appreciation and gratitude for Donna's care team at Regions Cancer Center and HealthPartners Hospice & Palliative Care. A memorial service was held June 19 at Lakewood Cemetery, Minneapolis.