Eat Beat: Pie, the perfect picnic treat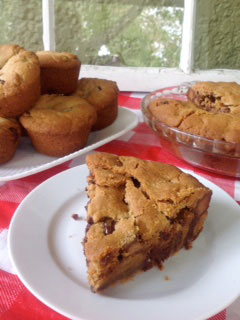 When Krista Craven and Christina Rogan decided to enter the Brooklyn (N.Y.) Brewery-sponsored Twin Cities Pie Experiment contest in fall 2012, winning the grand prize and moving on to compete in the Food Experiment National Championship, they had no idea it would lead to a successful small business, which they have dubbed Cravin' Pie.
"While we were in Brooklyn, we got to tour the old Pfizer Building which houses start-up food businesses," Craven explained. "Talking with the small-business owners, tasting their food and participating in a 'foodie tour' of Brooklyn is what really spurred us to action."
With help from husbands Chris Rogan and Andrew Craven, the two women have built a solid, pie lovin' following. Fans can snap up their award-winning, hand-held pies at outdoor festivals during the summer and at indoor events in the colder months. Any time of the year, folks can track down these artisan treats by checking their Facebook page (www.facebook.com/frypies?ref=bookmarks).
The pies are made in small batches using fair-trade and locally sourced ingredients whenever possible.
"All of our recipes are either original to us or inspired by old family recipes," Craven said. "The pie we entered in the competition was based on a pie that my grandmother Flossie made when I was growing up."
The pair hopes to make their pies more readily available in the near future. "We plan to have a pie counter at a Como restaurant by fall," Craven explained. Cravin' Pies has kindly shared the recipe below, so you can be the most popular neighbor at the Fourth of July picnic, or any time.
Crustless Peanut Butter Chocolate Chip Pie
Makes 2 pies or approximately 20 hand pies
INGREDIENTS
1 cup unsalted butter, softened
1 cup creamy peanut butter
1 cup sugar
1 cup dark brown sugar
2 large eggs, at room temperature
1 tsp vanilla
2 1⁄2 cups all­purpose flour
1⁄2 tsp baking soda
1⁄2 tsp salt
1 bag Ghirardelli dark chocolate chips
2⁄3 cup mini Reese's peanut butter cups
INSTRUCTIONS
Preheat oven to 350 degrees. Spray (2) glass pie plates or (2) muffin tins with cooking spray and set aside.
In a large bowl, beat the butter and peanut butter until fluffy (about 1 minute). Add sugar and brown sugar and beat until well-combined and fluffy (about 2 minutes). Add the eggs and vanilla and beat just until combined.
In a medium bowl, whisk together the flour, baking soda and salt. Add this to the butter mixture and beat until just combined. Stir in chocolate chips and mini Reese's peanut butter cups. Divide equally between two pie plates and use your hands to make a smooth layer. (Batter will be thick.)
Bake full­sized pies for 45­50 minutes. Let cool for 20­30 minutes before serving—don't worry, the center will still be warm and gooey. If making mini pies, bake for 20 minutes, cool before removing from pan.