Editorial: Our fear is out of control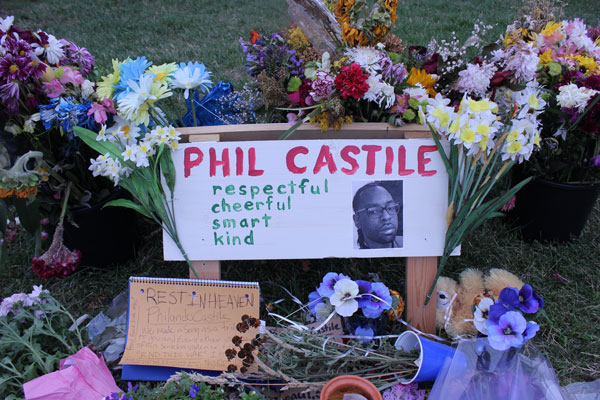 In late June, a Lauderdale man hoisted a red flag bearing the Nazi swastika in his backyard. The City of Lauderdale's response to residents' complaints about the flag was that it is the resident's First Amendment right to fly that flag. The Lauderdale man took the flag down after receiving a swarm of media attention. He claimed he was not "a neo-Nazi guy."
A week later, just one and a half miles east in Falcon Heights, Philando Castile was shot and killed at a traffic stop by a police officer after telling the officer he had a gun and a permit to carry that gun, something many believe is a Second Amendment right. The officer's lawyer told the Star Tribune on July 10 that the police officer used deadly force because of "the presence of a gun."
The irony here is profound.
Philando Castile would have turned 33 on July 16. He was a 2001 graduate of St. Paul Central High School and a longtime nutrition services employee in St. Paul Public Schools. He worked at Chelsea Heights Elementary School in Como Park and ended his career as a supervisor at J.J. Hill Montessori Magnet School. Philando Castile was black.
On July 6, Philando Castile drove down Larpenteur Avenue on a summer evening with his girlfriend and her 4-year-old daughter, who sat in the back seat of the car with the bags of groceries the couple had just purchased. He wasn't speeding. He hadn't run through a stop sign. Initially, police reported that he was stopped for having a taillight out and later said Castile was stopped because he matched the description of a man who had robbed a nearby convenience store four days earlier.
Over the course of his life, Castile had been stopped nearly 50 times for minor traffic offenses.
Philando Castile's life ended on Larpenteur Avenue at a traffic stop on a warm summer evening with a child in the back seat of his car.
Philando Castile has family and loved ones who live in the Bugle community. He knew children who attended J.J. Hill who live here. He knew their parents.
Philando Castile was a part of our community. Had he had a different skin color, he quite likely would be alive.
Our fear of each other is out of control. No one should be afraid of being pulled over on a city street because of their race. Police officers should not be so full of fear that they reach for a firearm as a first response. And there is no sadder statement on the troubles in our society than the fact that private citizens feel a need to carry a handgun to feel secure.
When will we stop being afraid of people who don't look like ourselves? To coin a phrase made famous by the late Sen. Paul Wellstone, we will all feel safe when we all feel safe.