Everything you need to know about the St. Anthony Park Arts Festival
The St. Anthony Park ARts Festival will be held Saturday, June 6, 10 a.m.-5 p.m. in St. Anthony Park. Booths will be set up between Luther Place and Carter Avenue along Como Avenue. Find out more at www.sapartsfest.org.
Here is a list of artists at the festival this year and a link to the three featured artists at this year's festival: Meet the featured artists.
Ceramics
Robert Briscoe
Bridget Donahue
Ann Fendorf
Vanessa Greene
Richard Gruchalla & Carrin Rosetti
Travis Hinton
Eric Holey
Chris & Sue Holmquist
Wendy Penta
Zac Spates
Amy Von Bargen
Glass & enamel
Craig Campbell
Steve Claypatch
Mary Ila Duntemann
Rachel Masica
Mike Tonder & Jody Freij-Tonder
Fiber & wearable
Marcia Almquist
Patti Berg
Sharon Cherney
Dawnette Davis
Mary Descombaz
Nancy Hovland
Laura Lund
Marlene Meyer
William & Linda Sumner
Colleen Tabaika
Kathleen Withers
Bao Yang
Kim Zaylskie
Jewelry
Ann Aas
Mary Best
Terry Chism
Robert Hale
Barbara Hale
Judith Hurd
Julie Johnson
Aaron Kahmann
Brenna Klassen-Glanzer
Leo & Dina Lisovskis
Mark Nuebel
Sue Peoples
Susan Spiller
Candyce Westfield
Rebecca Wicklund
Mixed media
Brenna Busse
Emily Donovan
Judith Hurd
Edward Lefto
Sharon Miller-Thompson
Jan Vaughan
Painting/drawing
Helen Bond
Julia Crozier
Marilyn Cuellar
Russel Dittmar
Dan Mackerman
Megan Moore
Sarah Thornton
Kathryn Weese
Photography
David Barthel
Rachel Cain
Jim Gindorff
Dan Leisen
Neil Johnson
Printmaking
Kendra Baillie
Cody Bartz
Emily Koehler
Dan & Lee Ross
Sculpture
Rebecca Bruzek
Bud Bullivant
David DeMattia
Sandra Haff
Dan & Lee Ross
Jennifer Wolcott
Wood
Ted Golbuff
Andrew Kringen
Paul Lambrecht
Dave & Kathy Towley
Here's a map of the festival site: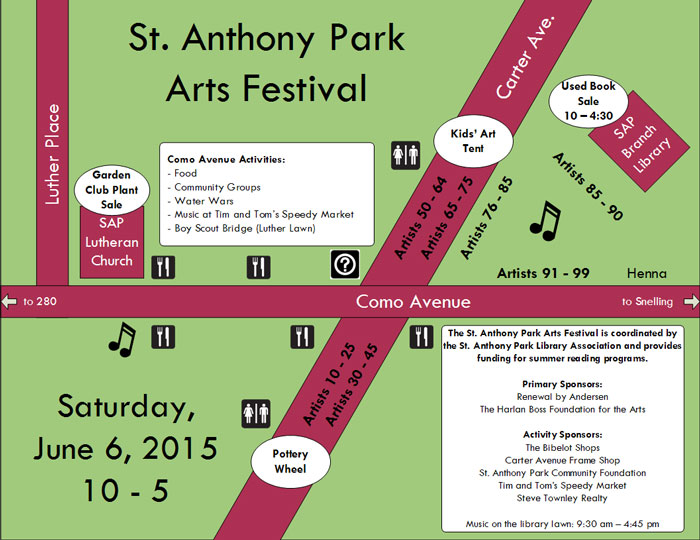 Check out the stage on the library lawn:
9:30-10 a.m.: Phillip Rukavina, Renaissance lute
10-10:45 a.m.: Phillip Rukavina and Thomas Walker Jr., Renaissance lute duets
11-11:45 a.m.: Carl Street Mandolin Quartet
Noon-12:45 p.m.: Stephanie Claussen, harpist
1-1:45 p.m.: Minnesota Mandolin Orchestra
2-2:45 p.m.: Richard Griffith, songster
3-3:45 p.m.: Ladyslipper Baroque Ensemble
4-4:45 p.m.: Miss Becky Kapell, songster