Ho, ho, ho: Here's your December shopping and fun guide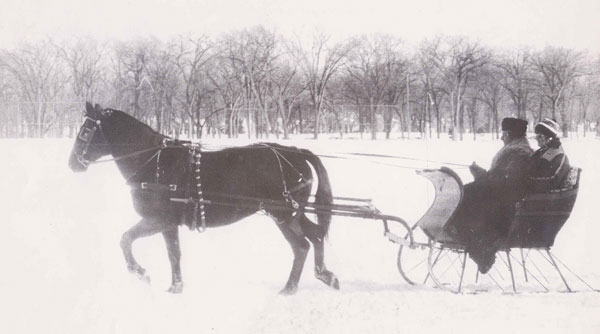 SHOP HOME FOR THE HOLIDAYS, St. Anthony Park's annual celebration in the business district along Como Avenue, will be held Saturday, Dec. 3. The day's activities will include strolling carolers; reindeer-pulled sleigh rides and Santa photo-ops at Sunrise Bank, 2300 Como Ave., 9 a.m.-noon; cookie decorating at Tim and Tom's Speedy Market, 2310 Como Ave., 10 a.m.-1 p.m.; a wine tasting at the Little Wine Shoppe, 2236 Carter Ave., 1-4 p.m.; and 20 percent off all ornaments in the store at Bibelot, 2276 Como Ave.
Other area merchants will have their own specials all day and the Best Holiday Sale Ever! will be held in the lower level of Milton Square 10 a.m.-5 p.m.
YES, VIRGINIA, THERE IS . . . SANTA! You can have dinner with Mr. and Mrs. Claus on Friday, Dec. 2, at Langford Recreation Center, 30 Langford Park, 5:30-7 p.m. The cost is $5 per person or $25 for a family. Make reservations for the event at stpaul.gov/activityregistration.
Santa will be back in St. Anthony Park the next day, Dec. 3, for photo-ops at Sunrise Bank, 2300 Como Ave., 9 a.m.-noon, and to light the Christmas tree in Milton Square's courtyard at 5 p.m. Milton Square is at the corner of Como and Carter avenues.
Santa and Christmas Carol will host a free story time at Muffuletta on Tuesday, Dec. 6, 6-7 p.m. RSVPs are required. Call Muffuletta at 651-644-9116 by Thursday, Dec. 1, to participate.
Santa and Mrs. Claus will visit Winter Wonderland at North Dale Rec Center, 1414 N. St. Albans St., Thursday, Dec. 8, 5:30-7:30 p.m. The free event will include holiday activities and a visit from the North Pole couple. No registration required.
LOOKING FOR HANDMADE GIFTS? The Blue House Boutique will be open Saturday, Dec. 3, 9 a.m.-3 p.m., and Sunday, Dec. 4, 9 a.m.-1 p.m. at St. Matthew's Episcopal Church, 2136 Carter Ave. The boutique is a major fundraiser for the Blue House, an orphanage in Uganda. Saturday's sale features a homemade lunch, 11 a.m.-1:30 p.m., coffee and pastries. The sale will include gourmet goodies, knit accessories, jewelry and African crafts.
The Best Holiday Sale Ever! will be held two days—Saturday, Dec. 5, 10 a.m.-5 p.m., and Sunday, Dec. 6, noon-3 p.m.—in the lower level of Milton Square. Local artists will be selling jewelry, crocheted toys, greeting cards, pottery, handmade guitars and ukuleles, gourmet cookies and more. You can find out more here.
Nettie & Friends' 13th annual Sale of the Season opens Saturday, Dec. 3, 4-6:30 p.m. at the Egg & Restaurant, 2550 W. University Ave. The sale is a fundraiser put on by teachers from Maxfield School in St. Paul to benefit students at the school. The sale is open through December during restaurant hours.
A CommUNITY APPRECIATION GATHERING will be held Sunday, Dec. 4, noon-5 p.m. at Healing Elements, 2290 Como Ave. The event will include intuitive aura readings, $1/minute chair massage, a complimentary Kundalini yoga class at 12:30-1:30 p.m., live music, tarot and oracle card readings, a pottery sale, retail specials and a world peace meditation at 3:45 p.m.
WOMEN OF SONG, a community women's choir from the metro area, will present Hold the Light Sunday, Dec. 4, at 4 p.m. at St. Anthony Park United Church of Christ, 2129 Commonwealth Ave. The concert will feature arrangements for women's voices celebrating the themes of light and hope. The choir is directed by Michelle Gehrz and accompanied by Mary Fadden, piano. Other instrumentalists will include a string quartet, clarinet, recorder and percussion.
There will be a free-will donation to offset choir expenses. You can learn more at www.womenofsongchoir.com.
A HEARTY HELPING OF HOLIDAY TUNES. Looking to sing some holiday favorites with a room full of neighbors? Head to the monthly Community Sing at the Olson Campus Center at Luther Seminary, 1490 Fulham St., St. Anthony Park, on Monday, Dec. 19. Music leader Dan Chouinard is promising a "hearty helping of holiday tunes." The sing takes place on the third Monday of each month and is led by Chouinard and singer-songwriter Ann Reed. Gather at 6:30 p.m. for social time. The singing begins at 7 p.m. and lasts about 90 minutes. Children are welcome.
NIGHT TRAINS: The Twin City Model Railroad Museum's annual display, Night Trains, opened in early November and will be open every Saturday through Feb. 25, 6-9 p.m.
The museum moved out of its longtime home in Bandana Square last year and has reopened at 668 Transfer Road, Suit 8.
Night Trains displays dozens of model railroad layouts in a magical way: The lights are turned down, the buildings and street lights glow and the make-believe town of Matlin is buried in a blizzard. The layouts are adorned with miniature Christmas lights and decorations.
Santa will visit the museum on Saturday, Dec. 17, and bring a sack of goodies for good girls and boys.
Admission is $15 per person and free for children four and younger. Discounted group rates are available for groups of four or more. Learn more at www.tcmrm.org.
LIVING NATIVITY: Bethel Lutheran Church, 670 W. Wheelock Parkway, will host its annual re-enactment of the Christmas story on Saturday, Dec. 10. The event will include actors portraying the biblical account of Jesus' birth, a Bethlehem marketplace experience, live farm animals and more.
Doors will open first to a Bethlehem marketplace at 5:30 p.m., with 10-minute live shows from 6 to 8 p.m. The event is free and open to the public (no tickets required).
A FULL-MOON WALK: Maplewood Nature Center, 2659 E. Seventh St., Maplewood, will host a hike by the light of the moon on Tuesday, Dec. 13, 6:30-8 p.m. Participants will hear some fun facts about the moon and hear stories from Ojibwe, Dakota and other cultures. Dress for the weather and bring a mug for hot apple cider. Cost is $4 per person and must be prepaid online by Sunday, Dec. 11. To register, go to maplewoodnaturecenter.com and click on the Register Online Go button. Or call 651-249-2170 if you need help registering.
WINTER BIRD OPEN HOUSE: Learn about winter birds at Maplewood Nature Center, 2659 E. Seventh St., Maplewood, Saturday, Dec. 17, 10 a.m.-3 p.m. Participants ages 7 and older can learn to use binoculars and make and take a pinecone birdfeeder. The event is free and participants can drop in at any time.
HOLIDAY GARDEN TEA. The annual three-course holiday tea at the Marjorie McNeely Conservatory will be held on Wednesday, Dec. 7. There will be two service times: 11 a.m. and 2 p.m. Guests will dine and receive a behind-the-scenes tour of the conservatory. Tickets are $40 if purchased before Thanksgiving or $45 after Thanksgiving. Space is limited and reservations are required. Call 651-487-8250.
IT'S THAT CHRISTMAS SAUSAGE TIME AGAIN: Every year Tim Faacks at Tim & Tom's Speedy Market, 2310 Como Ave. W., cranks out more than 2,000 pounds of the Lindquist family's Christmas sausage. He's been mincing meat since just after Halloween and plans to keep the stuff in stock through New Year's Day.
The Christmas sausage comes from a secret recipe handed down to Faacks by the family of Harry Lindquist, a butcher in Minneapolis from the 1920s to the 1960s. Lindquist was the grandfather of St. Anthony Park residents Dave and Mark Hansen, who own Hansen Tree Farm.