'I Drive 25' campaign hits the road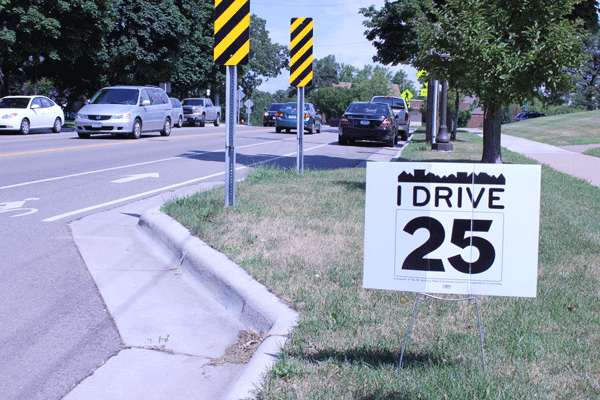 Residents' concerns about traffic speeds on St. Anthony Park streets prompted the District 12 Transportation Committee to launch a campaign to urge drivers to slow down. White signs touting "I Drive 25" popped up throughout St. Anthony Park in June and feedback so far has been positive, said John Mark Lucas, a member of the committee.
More than 60 people signed a pledge to drive 25 mph rather than the posted speed limit of 30 at the Transportation Committee's booth at the St. Anthony Park Arts Festival in June.
Why drive 25?
The campaign stemmed from the citywide yearlong Stop for Me pedestrian campaign, which began in March. Volunteers with highvisibility clothing and high-visibility signs have gathered at high-visibility intersections—including two along Raymond Avenue in St. Anthony Park and one at Lexington Parkway and East Como Lake Drive in Como Park—to raise awareness that drivers must stop for pedestrians at crosswalks and intersections.
"If drivers were going 25 mph, it would be a lot more likely they'd see pedestrians trying to cross the street," said Pat Thompson, a member of the Transportation Committee. "When you hear the statistics on pedestrian deaths at various speeds, it starts to feel pretty important." The standard speed on city streets is 30 mph, which is governed under state law.
Driving speed matters for two reasons: stopping distance and crash severity. The risk of pedestrian death hit by a car traveling on a city street increases substantially with speed, according to the National Institutes on Health. Death rates more than double between 25 and 32 mph, the NIH reported. A 2016 St. Paul Roadway Safety Plan put Como Avenue between Eustis Street and Raymond Avenue in the top five segments of city streets that had severe pedestrian or bicycle crashes between 2009 and 2013. That stretch of Como had a total of 10 crashes, two of which were considered severe.
"We do not have as much traffic as other streets," Lucas said, "but the combination of vehicle traffic, pedestrian activity and curving streets increases our traffic-accident risks."
The Transportation Committee has placed 20 signs in the neighborhood, mainly along entry points and along Como, Raymond and Cleveland avenues. Feedback has generally been positive, Lucas said.
"We have had further requests for more signs and also the 'I Drive 25' car magnet. At the same time, [committee members] have personally experienced drivers overtaking (on the bike lane) or gesturing at us for driving 25. Anecdotally, I have observed other vehicles in front of me driving at 25 mph, so we do have other likeminded drivers exercising their concern for a safer SAP. There is also a lot of interest from other districts."
The committee is working with the city about conducting a trafficspeed survey and is hoping to find funding to print more signs. Thompson donated funds for the first 20 signs.
If you would like to learn more about the campaign, contact Cailin Rogers at the St. Anthony Park Community Council, cailin@sapcc.org or 651-649-5992.