Lauderdale herbalist publishes guide to edible and medicinal wild plants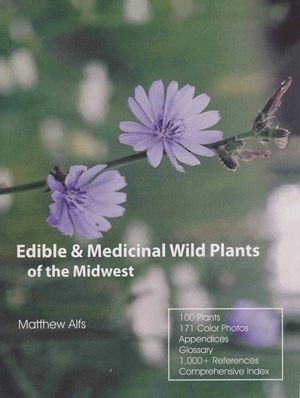 Ah, dandelions! And plantains, those broad-leaf green weeds that spring up everywhere they shouldn't be. Not to mention stinging nettles, our landscape's very own answer to the Portuguese man-of-war. Three good reasons to be glad that lawn care season is behind us for a while, right?
Not if you're Matthew Alfs. Where the average person sees garden weeds, Lauderdale resident Alfs finds nutritional and medicinal possibilities. A clinical herbalist in private practice in Roseville, Alfs has just brought out a new edition of his book, Edible and Medicinal Wild Plants of the Midwest (Revised Edition, Old Theology Book House, 2013). In it, he offers practical advice (and beautiful color photos) to help you recognize and use the plants that most of us ignore or overlook.
Take the plantain, for example. Alfs calls it the weed you encounter "around the driveway or on the way to the garbage can." A weed to be sure, but it's also a remedy hiding in plain sight, according to Alfs, who devotes nearly 10 pages to describing its curative powers for everything from oral abscesses to mosquito bites.
Then there are dandelions. They could be just the thing to undo the damage from an overly enthusiastic night on the town. Did you party a little too hard on Saturday night? Drag yourself out to the front lawn on Sunday morning and harvest a few dandelions. You can use them in salad or steam them to taste. Either way, your liver will thank you.
As for stinging nettles, Alfs waxes positively rhapsodic. "They're the most nutritious food on the planet," he says. "High in vitamin D, and did you know they are 42 percent protein?" Alfs says he eats more nettles than any other edible wild plant. A quick five-minute simmer removes the sting, and then "they're better than spinach." Just don't forget your gloves when you harvest them. Alfs, a self-described "outdoor person" who estimates that he's spent "a third of my life in the wilderness," is never happier than when he has the time to go out and gather herbs. "I know every field and vacant lot in the Twin Cities," he says, although the demands of running a busy clinical practice force him to prescribe mostly commercially obtained plant substances to his clients.
Surprisingly, it wasn't so much his love for the outdoors as an inconsolable baby that showed Alfs the path to his life's work. He's now 56, but in the late 1970s Alfs and his wife were the parents of a colicky infant son.
"We had tried everything," he recalls, but relief didn't arrive until one evening when the family was visiting friends. The baby was so fussy that Alfs and his wife almost packed up and departed for home. At the last minute, their friends made an unusual suggestion.
"Catnip tea," reports Alfs. "They grew it in the backyard." They put a little in the baby's bottle, and the effect on their son was immediate and dramatic.
"He immediately calmed down," says Alfs, recalling that the effect on his wife and himself may have been even more dramatic. "The whole incident made a powerful impression."
A year later, Alfs found lasting relief from a duodenal ulcer in an herbal preparation recommended by a local pharmacist. He had been interested in edible wild plants since his rural boyhood, but now he had found a calling. Over the next few years, Alfs attended an herbal college in Canada and later did advanced work in Chinese herbal medicine. He's been a practicing herbal clinician since the late 1990s.
Alfs describes his work as "complementary medicine" and adds that he never encourages his clients to discontinue or forego standard medical treatment. "Some alternative practitioners think of medical doctors as the enemy," he says. "I think of them as colleagues."
Judy Woodward is a reference librarian with Ramsey County Libraries and a regular contributor to the Park Bugle.