LightHotel is lighting the garden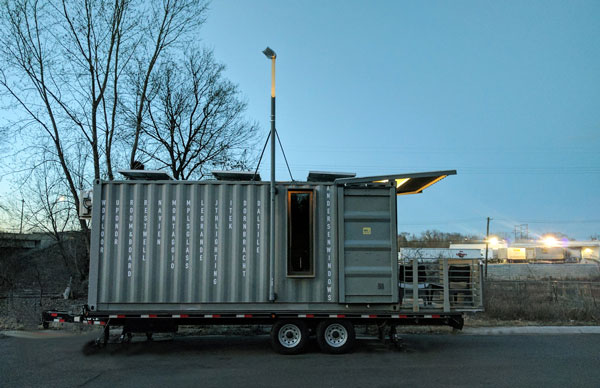 Geoffrey Warner's LightHotel will be on display through the end of April at the St. Anthony Park Community Garden on Robbins Street in South St. Anthony.
The LightHotel's brief installation is being hosted by the St. Anthony Park Community Council, which oversees the cooperative garden.
The LightHotel, designed by Geoffrey Warner, principal architect and owner of Alchemy, LLC, 856 Raymond Ave., debuted last spring at the Minneapolis Institute of Arts during the June Northern Sparks festival. It was built to be a one-room roving hotel that could be rented out at various venues in the Twin Cities, but for now the movable hotel room is not rentable.
The dwelling was built from an 8-by-20-foot shipping container and includes sustainable amenities such as a composting toilet, solar panels and a porch at the entrance with a sitting area that will be surrounded by water-filtering plants.
It's built for year-round use in Minnesota and features spray foam insulation, triple-paned windows, solar-powered HVAC, LED lighting and hydronic in-floor heating. It also has a 250-gallon water tank (stored under the queen size bed), on-demand water heater, and wet room with shower and toilet. Warner says the LightHotel is part of an ongoing effort to "celebrate and create new paradigms for efficient living."
You can find out more at www.LiveLargeHotel.com.