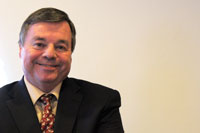 Luther Seminary names interim president and begins hard task of reorganizing after discovering $4 million shortfall
The Rev. Rick Foss had planned to retire in June from his position as Luther Seminary's director of contextual learning. Instead, Foss stepped in as interim president there on Jan. 1, three weeks after Richard Bliese resigned from the position he'd held since 2005.
The 68-year-old Foss will remain at the helm as the seminary board searches for a new president, a process Foss said could take a year or longer.
"You can't start looking for a president before you've done the work to figure out who you are and where you are going and what got you into a little trouble," Foss said in an interview in mid-January.
The trouble he's referring to is the school's $4 million shortfall, revealed in Luther's 2012 annual report which showed a total income of $23 million and expenses of $27.1 million.
Bliese's resignation was announced on Dec. 10, shortly after chief financial officer (CFO) Don Lewis resigned in November. Dr. William Frame was named interim CFO.
Foss is quick to point out that nothing dishonest led to the financial situation. "People meant well," he said. "We don't have betrayal or scandal or malfeasance—maybe [we were] taking too much at face value or being too confident. We just weren't able to pay for what we were doing."
Both Foss and Frame come into their new positions with lengthy resumes.
Foss joined the seminary in 2008, after serving 16 years as bishop of the Eastern North Dakota Synod of the Evangelical Lutheran Church in America (ELCA). He has served on the governing boards of Concordia College in Moorhead, Lutheran Social Services of North Dakota, Oak Grove Lutheran School in Fargo and Luther Seminary.
Frame was the CFO for Pacific Lutheran University near Tacoma, Wash., for 20 years and also served as president of Augsburg College in Minneapolis.
'As open as we can be'
Foss moved into the second-floor president's office in Northwestern Hall on Fulham Street on Jan. 9. The next day, he sent a letter to all stakeholders at the school—students, staff and faculty—because he doesn't want anyone to assume "that others are being told what they are not being told," he said.
The letter addressed how the school cannot afford all of its current programs and personnel and that there would be cuts in faculty, staff and programs.
"We are being as open as we can be," Foss said. "We are trying to have very little that flies under the confidential flag."
For the last month, faculty members have been meeting individually with academic dean Roland Martinson.
"We are trying to invite people into creative, imaginative problem-solving," Foss said. "To the extent that this organic thing made up of people who are all adults who are all gifted, if we can do that hard work pretty much together rather than [as one] person decreeing things, we'll come out of this much better," he said.
"Now, as soon as I say that, we know that doesn't happen very often or very well. That's a hard thing to do.
"There will be pain; there's no doubt about that."
The seminary is looking beyond programs and people as it assesses "what is needful, what is appropriate," Foss said. "We have a lot of physical assets, property and buildings, and we're looking at that, too."
Donor support
The seminary has had support in this "moment of crisis," Foss said. "Donors have responded exceptionally well, which keeps us out of the emergency room financially but still means we have to learn how to get the checkbook in order going forward.
"We're working on that."
Short timeline
When the seminary's board meets in early February, "we will have very good early information for the board to look at," Foss said. "The board, of course, is looking at 'How did we not see things earlier?' For all of us involved, we're not as much interested in finger pointing as looking in the mirror and saying, 'How do we best go forward?' "
By May, when the board meets again, "we should have a pretty clear specific picture of going forward," Foss said.
"We're looking at all the components. We know that we can't do everything we've been doing the way we've been doing it. That's clear. We also know that some of the things we are doing are going exceedingly well and that the people who were building on the heritage have done some things really well," Foss said.
"We're grateful for all the good gifts that Rick Bliese brought here. He brought wonderful gifts, and one of them was a good interaction with the [St. Anthony Park Community] community," which the seminary wants to continue, Foss said.