Meet Nancy Koester: Minnesota Book Award winner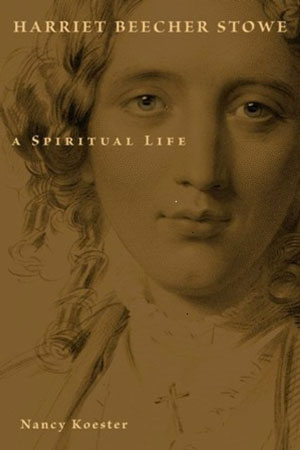 When former curator of the University of Minnesota's prestigious Kerlan Collection, Karen Hoyle, insisted that Nancy Koester submit her book, Harriet Beecher Stowe: A Spiritual Life, as a candidate for the Minnesota Book Award for general nonfiction, Koester found the idea intriguing. So she submitted it. And she won.
Nominations for the Friends of the St. Paul Public Library's annual awards may be submitted online by authors, publishers or agents and must be accompanied by a fee and five copies of the book. The books must be written by Minnesota full-time residents and be published within the award year.
Koester, a Como Park resident and former associate pastor at St. Anthony Park Lutheran Church and Como Park Lutheran Church, nominated herself but didn't tell anyone except her husband, Craig.
"I didn't want to be set on winning, and I didn't want to jinx it," she said.
In the lead-up to the awards ceremony, the award finalists attended promotional events at area libraries sponsored and arranged by the Friends of the St. Paul Public Library. Koester attended two in March, one with authors nominated in all categories and one with authors in her category.
The April 14 Minnesota Book Awards Gala drew 1,000 people to the Union Depot. (Koester had been scheduled for knee-replacement surgery just a few days before the awards gala; the surgery was rescheduled.)
Before the ceremony, authors sold and signed books and complimentary wine was served. During the ceremony, authors were spread around at different tables, with Koester in the middle of the room. She didn't have a speech prepared, because she didn't want to believe that she would win, she said. The names of all the authors and their books were read before a sealed paper was opened and the winner was announced in each category by a winner from a previous year.
"There was a pregnant pause and then Jack El-Hai read my name," Koester said.
She was shocked, she said, and thought about what she could say in her acceptance speech. But then she remembered how her dog, Livie, a herding dog, had "herded" her up to her writing room. So she included her dog with the other thanks and said that it was "humbling and amazing" to win when it could easily have been any one of the other books nominated. She thanked her husband and all the librarians who had taken such pleasure in helping her with her research and said what a privilege it had been to get to know Harriet Beecher Stowe, the subject of her book, so well.
The rest of the evening included champagne and desserts, toasts to the winners and finalists, and live New Orleans-style jazz by the King Baron Quartet. Koester was delighted with all the congratulatory emails, cards and notices on Facebook that she received after winning this award. The win also precipitated an invitation to a book festival in Mankato this summer and an uptick in book sales.
"It's very encouraging to win and gives me added incentive to work on my next book," she said.
Koester has other books on the horizon. She has a second edition of her textbook Introduction to the History of Christianity in the United States coming out in August from Fortress Press and has made trips to the Library of Congress and to upstate New York to begin research on her next biography, of Sojourner Truth, a 19th-century African-American abolitionist and women's rights activist.
Koester encourages anyone with an interest in learning to write to read Anne Lamott's book Bird by Bird, a wise and funny book about writing.
Michelle Christianson is a piano teacher, musician and longtime contributor to the Park Bugle.