MidModMen+friends channel 1960s design at American Craft Show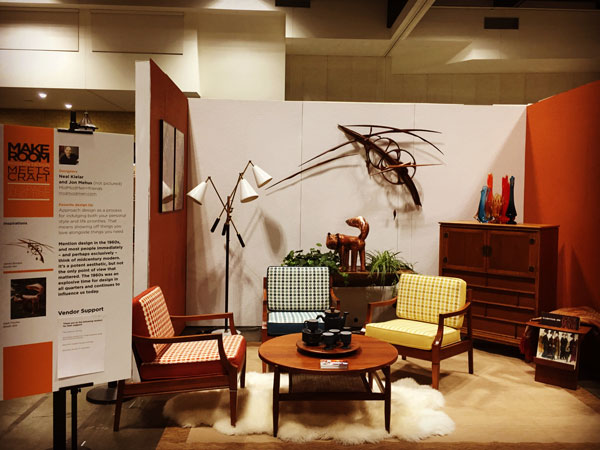 Neal Kielar and Jon Mehus, owners of MidModMen+friends, 2401 University Ave., designed a 1960s-inspired showcase for the American Craft Council's American Craft Show April 7-9 in downtown St. Paul.
The room design by Kielar and Mehus was part of the council's "Make Room" home décor program that puts craft into context by featuring room vignettes created by local designers. This year's theme was "In Space and Time." The design challenge was to create spaces inspired by fine craft and iconic images from the 1940s to today that visually communicate changing styles across decades.
There were four "Make Room" showcases. Kielar and Mehus have channeled 1960s design "with a twist," Kielar said.
The 1960s had a more diverse aesthetic than the 1940s and 1950s, Kielar said. Their space blended classic vintage modern pieces with Native American, Northern African, Middle Eastern and Asian influences.
Featured in the space were furniture by well-known designers like Jens Risom, chairs restored and re-imagined with ikat upholstery, a mid-century chest with an Asian motif, 1960s era lighting and artwork, and current objects created by American Craft Show artists.
MidModMen+friends is a retailer of stylish vintage and modern home furnishings. Everything is hand-selected, then cleaned, rejuvenated or restored according to need. Learn more at midmodmen.com.