Muffuletta server stars in independent film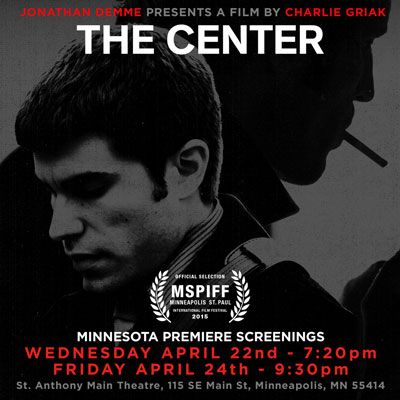 Matt Cici had just returned from five long weeks in South Dakota working on a film crew when he opened his computer and saw a posting for a paid acting role in a feature film that was to be made in Minnesota.
"It was perfect timing," he said.
Cici, a server at Muffuletta, 2260 Como Ave., landed the starring role in The Center, a 72-minute feature film that portrays a young college graduate at a dead-end job on a search for meaning in his life. He joins a self-help group, where he first finds hope but then finds the group is a cult with many secrets.
The film will have its Minnesota debut on Wednesday, April 22, at 7:20 p.m. at St. Anthony Main Theatre, 115 S.E. Main St., Minneapolis, as part of the Minneapolis St. Paul International Film Festival. The Center will have a second showing on Friday, April 24, at 9:20 p.m. A question-and-answer period with the film's cast and crew will follow each showing. Jonathon Demme (producer of Silence of the Lambs, Philadelphia and The Manchurian Candidate) is the executive producer of the film, which was written and directed by Minnesota filmmaker Charlie Griak.
The Center had its world premiere at the 25th anniversary Cinequest Film Festival in California in February 2015. There the audience and jury selected it for an encore screening on the festival's final day. The film then went to a festival in Australia. The Twin Cities festival will be its third showing.
The movie was filmed mostly in downtown St. Paul in 2011, Cici said. Demme got involved in the film after working with Griak on an animated film short. Griak shared a rough cut of his film with Demme, who liked the film and came on board as its executive producer and presenter.
"He let us use his studio, so Charlie got to work in New York with some of the most award-winning post-production people," Cici said. "They were editing Noah while editing our film. It was a really awesome other-worldly experience for a lot of us here."
Cici, who grew up in Maple Grove, said he got his acting start at Osseo High School doing one-act plays. He spent two years at North Hennepin Community College and acted in some plays there, as well as in community theater in Maple Grove and the Anoka area. He spent his last two years in college at Hamline University, where he also did some theater and received a degree in communications studies and film studies.
Cici has had experience in front of and behind the camera and has directed and made his own feature film.
"When writing and directing you are very much involved in acting," he said. Directors and writers need to understand the skills brought into acting to do their job, he said. Cici will be part of the panel discussions following the film's showings this week.
The film has garnered some positive press, including an upcoming feature in the fashion magazine Marie Claire, which named Cici "best dressed" at Cinequest in February.
To learn more about the film, go to www.thecentermovie.com. To learn more about the Minneapolis St. Paul International Film Festival, go to http://mspfilm.org.
St. Anthony Park: The new Hollywood
There must be something in the water at Milton Square in St. Anthony Park. Muffuletta server Matt Cici isn't the only film star at the corner of Carter and Como avenues.
On a Sunday afternoon in late March, a crew of production people and actors filled Micawber's Books for a long night of filming for a movie by local screenwriter and moviemaker David Ash.
Micawber's owner Tom Bielenberg said the store was used for two scenes "of a minute or two each" that take place at a poetry reading in a bookstore.
"It was a lot of fun," Bielenberg said.
The most interesting aspect of the evening for Bielenberg? "How many shots they took of every scene, how many takes of every possible scene."