Murray Middle School news
Murray's annual fundraiser at Barnes & Noble will be held Thursday, Dec. 5, at the Roseville store in HarMar Mall. Student presentations will take place from 6:30 to 8:30 p.m. at the store.
A Winter Holiday Concert will be held on Thursday, Dec. 12, at 7 p.m. in the Murray auditorium.
Sixth-grade Team Como update Elizabeth Curran's creative writing students wrote their own scary stories in October. Carol Moran's creative writing students studied the use of metaphor and wrote an extended metaphor poem. April Vaughn's mythology class attended a play about conflicts between Dakota people and European settlers. Sixth graders have begun book clubs, where students gather in small groups to read books at their choice and level.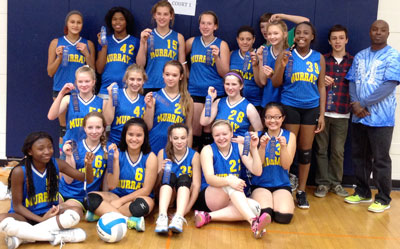 The flag football team and girls volleyball team won their city championship. The girls went 5-0 this season.
Spanish classes recently celebrated the end of a successful period of learning with a piñata fiesta. Students are encouraged to visit the lessons on YouTube at "David Donch" (there are nine videos) to get really good at speaking this second most-spoken language in the world. Sean ustedes bienvenidos a nuestras clases.
Volunteer opportunities at Murray Murray's Pilot One-on-One Tutoring Program needs adults to tutor students who need extra help to stay on track with assignments. You can sign up for any day of the week at any of the following times: 11:20 a.m.- 12:15 p.m., 12:15-1:10 p.m. or 1:10-2 p.m. To volunteer, please contact Cindy Thrasher at 651-293- 8740 or cindy.thrasher@spps.org.
Murray's science fair is Jan. 14. If you would like to be a judge, contact Gen Nakanishi, gen.nakanishi@spps.org.
Spirit Week at Murray
The week of Oct. 28 was Murray Spirit Week. For most of the Murray students, it was the first spirit week that they have ever had.
We started off spirit week with Mis-match day. Students wore clothes that did not match. There were a lot of patterns out there. The next day we had Twin Day. Pairs of twins and triplets walked the halls of Murray Middle School.
Wednesday was Pajama Day. Students and the cool teachers wore their favorite comfy pajamas to school. Thursday was FAN-atic day; we wore the things that represent what we love the most.
And last, but not least, was '80s Day: neon, big hair and someone called Madonna(?).
We ended the week with a school dance on Friday that rocked the gym. That week was a fun chance to work together as a school to show our school spirit.—By Audrey Dehler, Nou Xiong, Lily Barton and Madi McPhee (AVID 7)