Musicians find bakery business blends well with singing careers
What started out as a fluke has become a swiftly growing business for Como resident Mark Dietrich and his business partner, Kim Sueoka.
On April 1, 2010, Dietrich baked a lovely batch of scones and posted photos on Facebook announcing that he would deliver them to anyone who would like one. Assuming it was an April Fool's joke, friends responded with requests, not expecting him to actually show up with his still-warm-from-the-oven goodies, but he did.
Within weeks, orders and requests were coming in, and Dietrich had inadvertently begun a cottage business.
Delivering fresh treats to his friends was fun, but once the Minnesota Department of Agriculture caught wind of his endeavors, Dietrich was told he would need to get licensed and begin baking in a commercial kitchen to sell his baked items.
This was a transitional time for Dietrich. A classical singer, Dietrich was focusing on his music career and holding a job in retail that allowed him the flexibility to travel with his vocal ensemble. That job was coming to an end at the same time as his baking career was flourishing. His friend and fellow singer Sueoka (they are both members of the Rose Ensemble) was going through a similar shift in her life. Last summer, they sat down to chat about their futures, and a partnership was born. In a nod to its quirky beginning, they named their business the April Fool Bakery.
"Scheduling jobs that pay the bills around a musician's life was challenging," said Sueoka. "It was important to find something to do that could be arranged around performing, and working on a creative food project with Mark sounded amazing."
The two began the daunting process of getting licensed and found GIA Kitchen on Mackubin Street in St. Paul. GIA is a shared commercial kitchen with an online space reservation system that saves small start-ups like the April Fool Bakery money and time. With no up-front capital investments, small companies can explore and create without the financial risk of renting a storefront and purchasing expensive equipment.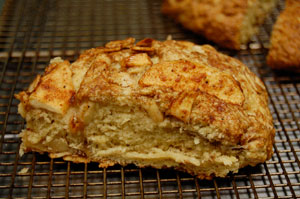 True to its grassroots beginning, the bakery got its first commercial account through word of mouth. A friend had stopped by Underground Music Café for her morning cup of coffee and heard they were looking for a new pastry source. She suggested they call Dietrich, who had officially launched the April Fool Bakery just a few weeks earlier. The next day, Underground Music Café was carrying the bakery's scones. Now they order twice a week and usually allow Dietrich and Sueoka to flex their creative muscles by including a flavor of the week with the order.
"They let us throw in a surprise flavor, which is really fun for us," said Sueoka. One of her most recent creations, the Almond Apple Spice scone, became an immediate favorite.
But the heart of the April Fool Bakery is still with its straight-to-consumer deliveries.
"We love the direct interaction with our customers and the individual relationship we maintain by delivering directly. When you call us with a request, you get us on the phone. It's the two of us baking for you, and one of us is delivering it to you," said Dietrich. "There is no middle man."
Starting small and with almost no initial investment has allowed the bakery to pass on the savings to their customers, creating a loyal following. Maintaining a high standard for the ingredients they use keeps those customers happy.
"We are not mass producing. We still choose the flavors and ingredients we use for every single small batch of scones. Everything is fresh, everything is real. We don't even know how to use preservatives. Where do you even get that stuff?" pondered Dietrich. "We are not interested in cutting corners when it comes to quality."
The April Fool Bakery has recently begun baking some gluten-free items. "We played with recipes we already loved and made some fun discoveries," said Dietrich. "Some worked, some didn't. We made a great brownie, and it sold immediately."
Lately Dietrich and Sueoka have also been experimenting with homemade dry pasta, as well as desserts such as crème brulee and a coconut pudding.
"One of the things we love about performing is that we get so excited about the music that we want to share it with our audience," said Sueoka. "It's the same thing with baking. We only bake and serve what we would love to eat ourselves."
You can find out more about the bakery at aprilfoolbakery.com.
Alex Lodner is a freelance writer who lives in the Como Park neighborhood.