New apartment complex breaks ground near Westgate light-rail station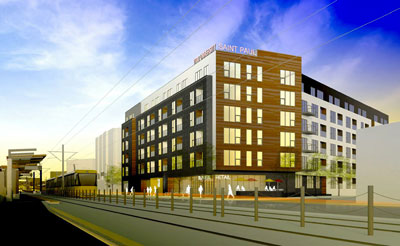 Kraus-Anderson Construction Company (KA) will hold a groundbreaking ceremony at 12:15 p.m., Tuesday, June 23, on a 248-unit, 345,000-square-foot housing development at 2700 University Ave. in St. Paul. Fifty units will be affordable housing.
Owned by Indianapolis-based Flaherty & Collins Properties, the multifamily housing development is located near the Green Line LRT Westgate Station on University Avenue just west of Highway 280.
The building will also house commercial space, including the Bike Shop, which will feature biking and fitness products, trainers and a TV lounging area. In addition, the site will include 3,000 square feet of wireless amenity space, which will feature a fitness center, tanning salon, cyber café, business center and leisure room. A resort-style pool, wet deck and surrounding landscaping will be located on the interior of the area, providing residents with an "outdoor living room" inclusive of fire pits, commercial-grade grills and outdoor furniture.
The development is designed by UrbanWorks Architecture and will include an entry plaza across from Westgate Station with a public art installation, pedestrian-scale site lighting, public park with seating areas, bike racks and community play areas. The site is easily accessible and served by bus routes, and aims to return an emphasis to human-scaled activities rather than automobile uses, which have historically dominated University Ave.
The project is expected to be completed in the fall of 2016.