New book is for families dealing with chronic illness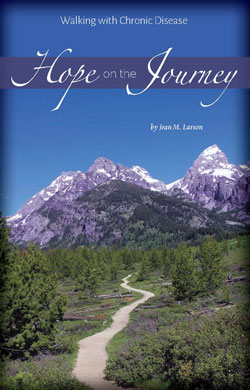 Author Jean Larson describes the feeling of learning a family member has been diagnosed with a chronic disease: "[It's] like being told to climb a mountain and not being at all equipped."
In 1990, Larson's husband, Milton, was diagnosed with Parkinson's disease. For more than 24 years, they walked an intense and emotional journey with this chronic disease.
Larson's new book, Hope on the Journey: Walking with Chronic Disease, gives voice to their feelings. Published by Huff Publishing Associates of Edina, Hope on the Journey is a compilation of poems, reflections and friendly advice.
Larson will read from her book at two venues in January. Lyngblomsten, 1415 Almond Ave., St. Paul, will host "Books, Cheese and Wine," Thursday, Jan. 12, from 5:30 to 7 p.m., in the Lyngblomsten Community Room. Cost is $5 if registered by Jan. 10 or $8 at the door. Register at 651-632-5330 or email, 2ndHalf@lyngblomsten.org.
Larson will discuss her book at St. Anthony Park Lutheran Church, 2323 Como Ave., on Sunday, Jan. 22, at 10 a.m.
The
book is available at amazon.com, huffpublishing.com and Barnes and Noble.
You can also contact the author at hopeonthejourney@gmail.com.