No yoke, Scandinavians are funny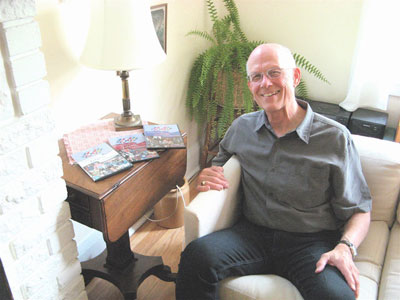 Scandinavian humor? Why, that's a contradiction in terms, isn't it?
Not hardly, ya know.
There's plenty of humor in Pretty Much 100% Scandinavian, a series of films co-produced by St. Anthony Park resident Bill Beyer and award-winning Swedish filmmaker Stefan Quinth. The "sagas," as they are called, show how humor helped immigrants cope with the hardships of a new land and gave their descendants the means to retain a sense of community.
One example: A Norwegian fellow grew up in a small Minnesota town with a Swedish church and a Norwegian church a block apart. He recalls asking his father, "Would you ever consider being buried in the Swedish cemetery?" The reply: "I'd rather be dead."
Scandinavian humor is delivered with a twinkle in the eye, rather than a big grin and the audiences aren't necessarily demonstrative, either. There's the story of a comedian telling all his best jokes to a seemingly indifferent group. Afterward, a fellow comes up to him and says, 'Y'know, you're the funniest guy we've ever had here. I almost laughed out loud!"
"It's a self-deprecating, nonoffensive humor that provides a perspective about Scandinavians," Beyer explained. "And it's a way to talk about personal awkwardness or embarrassment, for instance, that ends up in laughter and that's a redemption of sorts."
Beyer and his wife, Margareta, a native of Gothenburg, Sweden, have lived in their home St. Anthony Park since 1983, raising their daughters, Kerstin and Emma, there.
After 25 years as an administrator at the University of Minnesota Twin Cities Campus, Beyer served as associate director of the American Swedish Institute in Minneapolis.
It was there that he met Quinth, who visited the institute on several occasions to show his work, including a film in progress about Scandinavian Americans on Kodiak Island, Alaska.
"For a number of reasons, they're a people with only snippets of cultural memory, but I pointed out to Stefan that that isn't the case here," Beyer said. "We have cultural connections that are kept alive through the tremendous number of interactions, not only among Scandinavians here, but between people and institutions in the United States and those in Denmark, Finland, Iceland, Norway and Sweden."
The two agreed to join forces and began filming interviews with literally hundreds of Scandinavian Americans across Minnesota, eastern North Dakota and western Wisconsin. The first saga was ready for viewing in October 2009.
"Pretty Much 100% seems to us to capture how many, especially in the Upper Midwest and Pacific Northwest, are able to identify strongly with roots in one of the five Scandinavian countries while knowing that as Americans they are not quite Scandinavians—but almost," Beyer said.
"My role has been to find the interviewees and give some shape to these stories," he added. "It's a tremendous amount of fun working with Stefan, seeing what he captures with the camera and how he then works his magic, transforming it into something worth watching. That's not always easy because Scandinavians are very skilled at silence.
"We've been on the road a lot showing the films, everywhere from Chicago to Minot," Beyer noted. "And there are Swedish versions which we have shown in that country. We wondered if the jokes would translate. No problem, as it turned out."
Saga Three, shown on Twin Cities Public Television this past June, examines Life and Work in the New Land. It's a tribute to the work Scandinavians did when they first arrived in America—farming, logging, church service, domestic work—and what they do now.
Beyer and Quinth are in the process of completing Saga Four—no additional episodes are planned—which will premiere on Oct. 6 at the Swedish American Institute. The film focuses on arts and crafts, the values of Scandinavian design that show up in Danish furniture, Finnish glass and even Swedish pop music.
When asked for a favorite joke from the series, Beyer tells of the time Ole and Sven were building a house:
Sven notices that Ole is throwing away almost every other nail he picks out of the carpenter apron around his waist.
"Ole," Sven says, "What are you doing! You're throwing half the nails away."
"Ja, Sven, half of them have the heads on the wrong end."
"Ole, you fool! Those are for the other side of the house."
Clips of the first three sagas can be viewed at www.cameraq.com. DVDs of the episodes completed so far are available at Micawber's, 2238 Carter Ave.; American Swedish Institute, 2600 Park Ave. S., Minneapolis, www.asimn.org; and Ingebretsen's Scandinavian Gifts, 1601 E. Lake St., Minneapolis, www.ingebretsens.com; and on the web at www.cameraq.com.