One giant masterpiece
Some saw a long hallway of Masonite; she saw a corridor of canvas.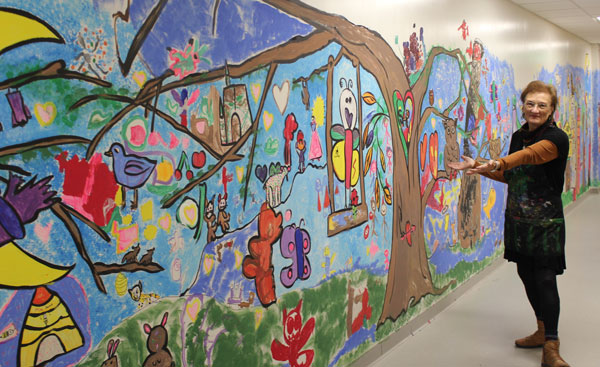 It was a classic making-lemonade-out-of-lemons idea.
When construction workers at St. Anthony Park Elementary School put up a temporary wall this fall between the school's soon-to-be-new library and the second-grade wing, construction-weary students and faculty got inspired.
"The big, blank, white wall aroused many voices to channel a single thought: 'We should paint this,' " said art instructor Courtney Oleen.
Because the wall was located in the second-grade annex, "I felt it should be [the second-graders'] project and a way to make the beginning of the year special."
And it was. Some 80-plus second-graders spent several weeks creating one really long mural that features birds, bees, trees, flowers, fish, hearts, a unicorn, the Statue of Liberty and a whole lot of color. The mural will be up until sometime in the spring, when the new library space will be open and the wall will come down.
"I think of this as a performance piece," Oleen said, "a public art project that brought color to the long walkway."