Pearl Christenson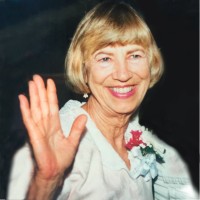 Pearl Darlene Christenson of Arden Hills passed peacefully, surrounded by her family on Oct. 11. Born to the Rev. Oscar and Olga Jacobson on Aug. 21, 1929, in Chicago, Pearl grew up in parsonages in Pinewood and Fertile, Minn., where she ran with her pack of pals, the "Crazy Eight."
Pearl graduated from St. Olaf College and taught English and music in Murdock, Long Prairie and Litchfield, Minn., where she met her future husband, Jerry Christenson, at a high school football game. As fellow teachers, they were both passionate about learning and passed that along to their six children.
Pearl was a wonderful teacher and an accomplished pianist. She took her talents to the church, first as choir director for St. John's in New Brighton and later at St. Mary of the Lake in White Bear, and always as music director extraordinaire for all Christenson family events. Many congregants remember her as smartly dressed (those snazzy shoes!) with an engaging smile, joyfully inviting them to sing along.
Pearl was interested in everyone, and all were drawn to her charisma, wisdom and unconditional love. Grateful, loving and generous, she is remembered as a beloved daughter, a devoted wife, and an endlessly loving mother and grandmother. She was a joy-filled musician, a kind friend and neighbor. She relished her Norwegian heritage and her faith in the Lord.
She will be forever in the hearts of her children, Carol (Rick Plunkett), Michael (Lis) of St. Anthony Park, Tom, Becky and Karen, a science teacher at St. Anthony Park Elementary School; grandchildren, Chris and Andrew Tolbert (Taylor) and their father Gordon; Will and Aria Christenson; Alex, Katie and Luke Plunkett; great-grandson, Jackson; and brother, Orville (Donnalee).
Pearl was preceded in death by her husband, Gerald, and their firstborn daughter, Kathryn Tolbert.
Pearl's memorial service will begin at 1 p.m. Saturday, Oct. 24, at St. Matthew's Episcopal Church, 2136 Carter Ave., in St. Paul. (Please note that parking and seating are somewhat limited, so you may wish to arrive early.)
The night before the memorial, instead of a formal visitation, a Remembrance Gathering will be hosted by Pearl's family from 5-7 PM on Friday, Oct. 23, at Pippin's Restaurant, 2905 N. Snelling Ave., Roseville.
In lieu of flowers, donations may be made to Minneapolis Community and Technical College Foundation (Pearl Christenson Dream Fund) or at  www.comMUSICationMN.org, an urban music education program.
Comments and stories of Pearl may be shared online at http://m.startribune.com/obituaries/detail/105216/?fullname=pearl-darlene-christenson.