Peter Jordan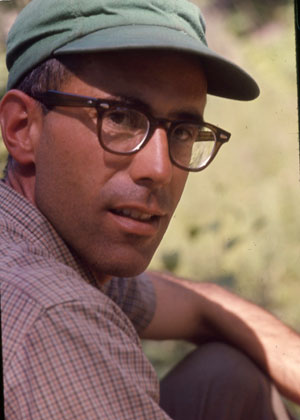 Peter Albion Jordan, 87, died April 1, 2017. He was a longtime resident on Upper Hythe Street in St. Anthony Park.
He was born on Jan. 2, 1930, in Alameda, Calif. Though he had been in declining health for the past few years, he continued to dream of many more adventures. He was talking about visiting Bolivia and Namibia until the very end of his life.
Peter was a proud native Californian. His great-grandfather was a '49er from Maine who started the limestone and cement business in Santa Cruz that helped build San Francisco. His mother, Frances, was the orphaned daughter of Irish immigrants to Napa.
Peter was born just months after his father, Albion, died in an auto accident. He was raised by his doting single mother and older sister, Marion, in the homes of his paternal grandparents in Alameda and Santa Cruz, Calif. Peter went to grammar and high school in Alameda. Early on he developed a deep of love of wilderness and science that lasted all of his years.
Peter spent his early summers with his sister exploring the natural wonders of the Santa Cruz Mountains and the Pacific Ocean beaches and tide pools. Starting at 14, he rode up to Yosemite Valley every summer in an open rumble seat and worked cleaning visitor cabins to have the chance to hike the Sierra Nevada Mountains on his days off. He maintained his love for the natural history of California and always said he planned to retire to Santa Cruz. In the end, he loved his profession too much to ever truly retire.
Peter went to the University of California Berkeley for his undergraduate and graduate studies, getting his doctorate in zoology in 1963. He studied under A. Starker Leopold, doing his dissertation on the ecology of mule deer in the Sierras. His education was interrupted by two years in the Army for officer training at Fort Benning, Ga., and Fort Lewis, Wash., from 1953 to 1955.
Peter met his future wife, Martha Ellis, at Berkeley; they were married in 1962. Their son, Chris, was born a year later in Berkeley. They soon relocated to Indiana, where Peter was a postdoctoral research associate at Purdue University for Durwood Allen's study of moose and wolves at Isle Royale National Park in Lake Superior, starting what would be more than 50 years of research on moose on Isle Royale.
Their second child, Marion, was born two years after Chris. The family spent these first summers on Isle Royale with Peter traipsing through the forest collecting data while Martha took care of baby Marion and toddler Chris in a log cabin with no electricity or running water on a tiny, rocky island. The family then moved to Connecticut in 1967 for Peter's first faculty position at Yale University in the School of Forestry. Their son, Bennett, was born soon after.
Peter taught at Yale for nine years and then moved his family in 1974 to Minnesota, where he accepted a position in the University of Minnesota's Department of Entomology, Fisheries and Wildlife. He stayed there the rest of his career.
The family settled in St. Anthony Park and he remained in the neighborhood for nearly 40 years. He adored the neighborhood and made many dear friends. He helped clean the gutters and shovel the walks of those unable to, and in turn was supported by his neighbors as he aged. The family is grateful for these important friends who helped in so many ways.
Peter leaves his three children, Christopher (Rebekah) of Corvallis, Ore.; Marion of Santa Cruz; and Bennett (Gillian Puryear) of St. Paul.; and five grandchildren. He is also survived by his former wife, Martha Jordan, of Santa Cruz.
A memorial was held May 20 on the St. Paul Campus.