Pollinator 'sky rise' is all the buzz in Como Park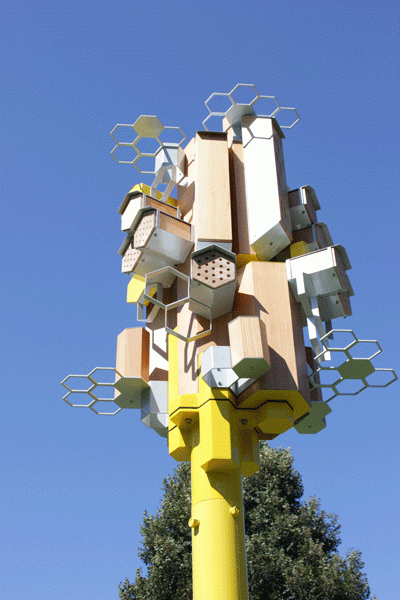 A new high-rise just went up in Como Park and tenants are—excuse the pun—just buzzing to get in.
Part sculpture, part science experiment, the pollinator "sky rise" will provide permanent housing for wild bee species and other pollinators, including butterflies. The structure is a collaboration between Public Art St. Paul and the University of Minnesota's Bee Lab, which will use it to study of how wild bees use human-made bee structures.
The sky rise was installed in early September along the bike and walking paths at Lake Como, near the intersection of West Como Boulevard, Nagasaki Road and Horton Avenue.
The first of several planned, the sky rise is part of Public Art's Bee Real Bee Everywhere initiative, which aims to highlight the loss of natural habitat for bees and other pollinators. Lead artists on the project are Christine Baeumler, associate professor of interdisciplinary art and social practice at the U; Amanda Lovelee, city artist for Public Art St. Paul; and Julie Benda, a Minneapolis artist whose background includes forest ecology, ethno-botany and agriculture along or near the Great Lakes.
Bee Lab researcher Colleen Satyshur and Baeumler were awarded a $245,000 Minnesota Futures Grant from the U to work together to test the design, use and effectiveness of this bee house.
The Como sky rise is about 4 feet high and 3 feet in diameter. It's metal framework and multi-paneled wooden forms were engineered to attract and house different species of bees and butterflies. It sits atop a 9-foot pole near a bench on the lake's walkway. A second sky rise is planned for installation at Lake Phalen later this fall, and there are plans to install one on the U's St. Paul campus in Falcon Heights.
A celebration of the Como sky rise was held Sept. 13 and included a visit from the Office of Urban Pollen Exchange, a bike cart with fun materials that education assistants have been taking to festivals, farmers markets, libraries and other gathering places to engage people about the importance of helping to sustain the bee and pollinator populations.
The Sept. 13 event was part of Public Art St. Paul's year-long 30th-anniversary celebration. The nonprofit organization works with the city of St. Paul to research and plan public projects and developments and commission, produce and tend to public art.