Raymond Avenue construction to begin Aug. 7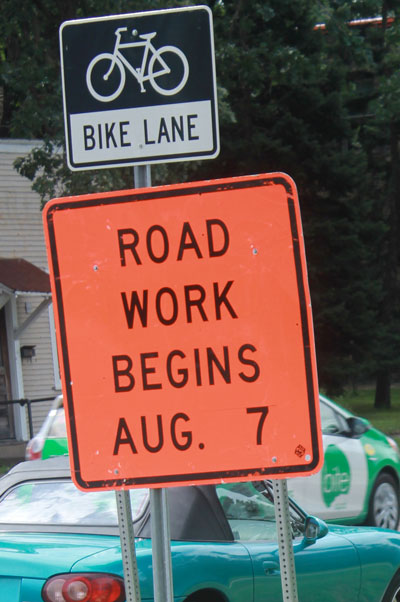 Construction on Raymond Avenue will begin Wednesday, Aug. 7, according to a sign on Raymond Avenue across from Hampden Park Co-op. The project was initially scheduled to begin in July.
Discussions are also under way for how best to alleviate parking concerns for business owners.
The District 12 Community Council has not scheduled any informational meetings about the project, but you can call the project engineer, Barb Mundahl, with specific questions regarding the project and specific property inquiries. She can be reached at 651-266-6112 or by email at Barbara.mundahl@ci.stpaul.mn.us.
Construction inspector Mike Vanbeuskom can be reached at 651-266-6083.
The St. Anthony Park Transportation Committee has designed yard signs to post around the construction signaling that businesses are and will remain open through construction.
The committee is also exploring ways to increase community involvement for phases two and three of the Raymond Ave. project, which are tentatively slated to begin in 2014. The first public meeting to address construction from Hampden Avenue to Como Avenue will be held at a block party Friday, Aug. 23, from 3:30 to 7:30 p.m. on Manvel Street at Raymond Avenue.
The event will featured photographs of street-calming examples and will give participants opportunities to share ideas. There will also be free food. The public is welcome.
Questions? Contact Rebecca Rassier at pascalfr86@yahoo.com. Rassier is a neighbor who is helping facilitate the meeting.
Information on all stages of the project will be posted to the St. Anthony Park Community Council website (sapcc.org) as soon as it is made available.