School news around town
Compiled by Sarah Clark
Murray Middle School
Band students honored
Murray eighth graders Elise Helmer and Franny McNattin participated in the 5th Annual Minnesota Junior Winds Honor Band in November.
Helmer and McNattin play the trumpet and were nominated by Denae Olsen, Murray's band and orchestra director.
The MJW Honor Band seeks to offer high level experiences to students in grades 7 to 10 from music programs all over the state. This year the event was held at Edina High School.
Murray Principal Jamin McKenzie reported, "Both Elise and Franny enjoyed this experience of playing with many different people and working as one to accomplish a great concert all in one day."
'Give to the Max' thank you
McKenzie extended a big thank you to all of the community members who participated in the "Give to the Max" event. Murray raised more than $2,500. The proceeds will go to support classrooms, students and educational experiences.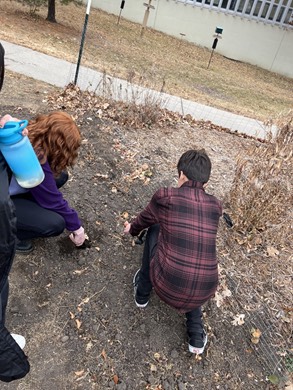 Science with Mr. Altringer: Tulips are in
Students in Nick Altringer's science classes assisted putting in a tulip garden to participate in a national phenology study with Journey North and a local urban heat island investigation.
National Junior Honor Society Fundraiser Celebration
Murray's National Junior Honor Society group held a Coins for Children's Cancer drive in October. They raised $329.98, so three staff members rose to the challenge and volunteered to have their hair cut off to donate to Locks of Love.
Eddie Owens and Assistant Principal Ryan Eggers tag teamed to cut off ponytails for donation, Proceeds were donated to Minnesota Children's Hospital Cancer Kids Fund, to give comfort to kids undergoing cancer treatment and also their families.
Sarah CR Clark is a regular contributor to the Bugle.
Twin Cities German Immersion School
School tours for prospective K-8 students and families
The Twin Cities German Immersion School is a public K-8 charter school in the Como neighborhood.
TCGIS is a language immersion school, which means German is the primary language of instruction in grades K-8. With exceptions for English class beginning in third grade, and math beginning in fifth grade, students meet their learning targets using German, learning language through the content of Minnesota state standards.
Additional support for students who don't speak German yet, as well as English language support for students who speak a language other than English at home, also is available.
Families of prospective students are invited to visit during one of three school tours: Jan. 20, Jan. 28 and Feb. 6. The hour-long, in person tour includes visits to classrooms and a Q&A with an administrator and a teacher. You can learn more at tcgis.org/school-tours.
Classroom highlights
Second graders wrapped up their fall unit about squirrels, in which they learned about life cycles, habitats, predators, diet and seasonal adaptations for animals, with a sewing project! Parents and grandparents volunteered in the classroom to help kids sew their own squirrel stuffy.
In November, all fourth graders were paired with kindergarten students and have been meeting weekly to read stories, work on projects, go on neighborhood walks and play together.
This fall, TCGIS sixth graders learned about the separation of power and federalism and how different governments work in Minnesota, the USA, Germany and the European Union.
TCGIS Winter sports
Winter sports have begun for middle schoolers. More than 100 students in grades 5 to 8 are now participating on TCGIS coed teams for basketball, indoor track and field and Nordic skiing. 
Submitted by Katharina Schirg, TCGIS communications relations director.