Snelling and Como: a charming little corner of St. Paul
Nestled in the shadow of the Minnesota State Fairgrounds and tucked beneath the Snelling Avenue overpass, many of the businesses at the corner of Como and Snelling avenues are thriving in an unlikely nook of St. Paul.
With Como Park directly to the east, train yards to the south and the fairgrounds to the north, the Snelling-Como business district sits in a pocket that leaves little room for new large-scale developments or expansion.
"I think because it's so landlocked here, there's really not a lot of room for development. I don't see a lot of changes coming to it," says Jim Thompson, the second-generation proprietor of J.O. Thompson Inc.
The flooring business at 1558 Como Ave. is the longest standing business on the block, having relocated to the corner in 1965. A St. Paul native, Thompson has watched the area evolve over the last 40 years and owns much of the real estate on the block.
While the Green Line Light Rail continues to draw investments and major development projects to the Central Corridor along University Avenue, there is a subtle insouciance a mile and a half north, where business owners are content with the present and hopeful for the future but have no notions of becoming the next Grand Avenue or Selby-Snelling business area, either.
Lots of community support
After 35 years at its current location, Nelson Cheese and Deli, 1562 Como Ave., tallied its most successful year to date in 2014, according to longtime owner and familiar neighborhood hat Mike Greenheck.
"I don't know if by luck or by chance, but we moved here in 1980 and had a successful business ever since," Greenheck says. "We've been here a long time and even today we still get new customers."
When he's not busy on the line crafting one of Nelson's signature fresh sandwiches or salads, Greenheck posts up near the register at the front entrance during busy lunch rushes where he greets an astonishing number of customers by name.
"I have a system where we know everybody by first name," he says.
"I just love what I do. I enjoy coming to work, I love our customers, it's fun sitting there," he says. "I could tell you exactly what's going on in this neighborhood really easily just by talking to all the customers, neighbors and local businesses."
A majority of the young employees at Nelson's live in the neighborhood and walk to work, and that's the way Greenheck prefers it. One current employee is the third sibling in their family to work at Nelson's, he says.
Across the street, Beloved Tattoo, 1563 Como Ave., is going on nine years and two expansions during the same time period. Owner Brandon Heffron runs the shop with his wife, Karis, who heads the tattoo-removal business connected to the shop.
"People think it's funny they are connected, but if you're in the industry, it makes sense," Heffron says. Many of the artists at the shop are booked as far as a year in advance, and it's not uncommon for clients to fly in from across the country to get inked by some of the shop's nationally recognized talent.
Heffron has witnessed the ongoing "mainstreaming" of tattoo culture firsthand over the last two decades. He continues to work to overcome the stigma of tattooing and sees the gap between the art world and the tattoo world narrowing.
"I'd like people to recognize it as an art form, rather than just tattooing," he says.
To that end, Beloved Studios has become more than just another tattoo shop. Work from local artists is frequently displayed in the shop and a new gallery space allows them to host more formal art showings, Heffron says. There is a community art night the last Thursday of each month, and the shop hosts a block party with live music, local food and lots of art every year.
One person who admits to Beloved changing her perception of tattoos is right next door.
"They are fabulous people," says Sheila Burns, who owns Bliss Yoga Studio, 1565 Como Ave. "They changed my mind about what I thought tattoos and tattoo artists were about."
Health-and-wellness hub sprouts
Bliss was the first of the four current health-and-wellness businesses on the block. Since opening the studio in 2007 at an adjacent space in the same property, Burns has seen a steady increase in business.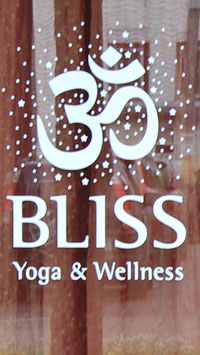 "I taught restorative yoga and remember being thrilled by the idea of having 18 students in one week," she says. Today, she is one of 11 instructors teaching a variety of styles of yoga for every age and ability at Bliss. It's not unusual for as many as 28 students to attend a single class, she says.
She attributes much of this success to the support of the community in Como Park and surrounding area. "There are people in this neighborhood that have been coming to Bliss Studio since the beginning and they're still here," she says. "We're friends and we're a community."
Burns is happy to have some new neighbors also focused on health and wellness. "I love that it's an expanding wellness corner," she says. "[As a society], we've really looked at what it means to be healthy and there are a lot of alternative therapies that are being recognized medically."
Each of the four health-oriented businesses on the block offers distinct services and practice unique holistic health modalities.
Around the corner from Bliss, Andrej Peterka offers acupuncture and oriental medicine in a calming, cozy space at 1563 Como Ave.
"After two decades of experience in a variety of clinical and private settings, I came to realize that I have a deeper calling to go beyond symptom management and work with deep transformation," Peterka says on his website.
On the other side of the health-and-wellness spectrum, FIT Lab, 1565 Como Ave., takes an innovative approach to physical fitness and training. Owner Tyrone Minor is a certified personal trainer and licensed physical education teacher. He is also a three-time state high school track and field champion and Olympic trials qualifier.
He started FIT Lab, which stands for Fitness Innovation Transformation, as a center for people of all fitness levels to achieve significant and lasting changes in their health.
Though the space features a fully outfitted gym with weights, benches and racks, Minor says, "we don't really consider ourselves a gym; we try to create more of a family-type atmosphere."
The core of FIT Lab's programming revolves around a 10-week transformational challenge called Insight 2 Health. Participants work out with a different trainer every day, covering weightlifting to yoga, kettle bells and more.
In addition to the physical training, participants also work with a certified nutritionist who will take them grocery shopping, lead cooking classes and cover a wide range of healthy eating practices. The third component of the fitness challenge includes working with a mental health therapist to address the underlying causes of weight gain and unhealthy habits.
The newest business on the block seeks to address the health of people and computers in the same business. Psinergy and Tech Warrior St. Paul opened at 1553 Como Ave. in May 2014. While some might be initially confounded by a holistic health and computer repair businesses housed under the same roof, partners SchaOn Blodgett and Andre Thomas insist it's a more natural partnership than it may at first appear.
"The human body is basically an organic computer, just way faster and more complex," Blodgett says. He handles the human health side of the business, while Thomas acts as the lead "computer therapist," as they call them.
Blodgett's primary modality is Esogetics, and he incorporates crystal therapies, light therapies and "color puncture," to name just a few of the many therapies he has studied.
The computer and human health team has received Angie's List Super Service Awards for the last four years and are already looking to expand their business to include group therapy and workshops.
While some might view the location of the Snelling-Como business area as an obstacle to growth and prosperity, Blodgett has his own explanation for the continued success of the area.
The elemental alignment of the fairgrounds to the west (the element of metal), the water tower to the north (water), Como Regional Park to the east (wood), and the restaurants, which he says represent fire, including Nelson's Cheese and Deli, Shanghai Market and Café 99, to the south, creates a harmony with beneficial feng shui, he says. And that may explain the charm of this unassuming corner in St. Paul.
Kyle Mianulli is a Twin Cities freelance writer and frequent contributor to the Park Bugle.