Sweets for your sweetheart(s)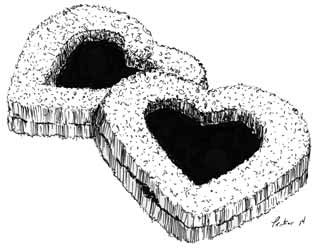 While the Linzer torte is a fairly complicated Austrian torte made with ground nuts covered with tart jam and topped with a lattice design, it's North American offspring, the Linzer cookie, is a simple and adaptable cut-out version that is easy and fun to assemble. These adorable sandwich cookies can be made in a variety of shapes, from the circle to the more ornate heart.
The heart shape is especially charming and makes the perfect sweet treat to share with loved ones on Valentine's Day. Use raspberry seedless jam and cut out a tiny heart keyhole that allows the vibrant red to peak through. Wrap a few in some pink and red paper and hand them out to teachers, neighbors, friends or co-workers for a delightful Heart Day gift. You can even let the kids help assemble them for a fun winter activity.
While the classic Linzer recipe calls for ground nuts such as hazelnuts, walnuts or almonds, this recipe is simplified by using regular flour and substituting the vanilla extract for almond (or any other nut flavor) to impart the desired flavor.
Linzer Cookies
1 1/3 cups all-purpose flour
1/4 tsp. baking powder
1/4 tsp. kosher salt
3/4 cup sugar
1/2 cup butter, softened
1 egg
1 tsp. almond or hazelnut extract
Seedless raspberry jam
Powdered sugar (optional)
Combine flour, baking powder and salt in medium bowl, set aside. In a standing mixer or using a hand-held electric mixer, beat granulated sugar and butter until light and fluffy. Beat in egg and extract. Gradually add flour mixture.
Beat at low speed until dough forms.
Divide dough in half, cover each half with plastic wrap and refrigerate for at least an hour until firm.
Preheat oven to 375 degrees.
Working with half of the dough at a time, roll it out onto a floured surface to about 1/8-inch thickness. Cut dough into shapes using a floured heart-shaped cookie cutter. Cut small centers out of half of the cookies using a tiny cookie cutter or with a sharp knife.
Place cookies 1 inch apart on ungreased cookie sheets.
Bake 5-7 minutes or until the edges are barely brown. Let cookies rest on cookie sheets for a few minutes, remove to wire racks and cool completely.
Sprinkle the cookies with the holes with powdered sugar, if desired.
Spread a small amount of jam on the flat side of each whole cookie. Be careful not to use too much jam as it will spread past edges when you add the top cookie. Place cookie with holes over jam to create sandwich. Makes about 18 cookies, depending on the size of your cutter.