Take a book. Leave a book. Remake a book.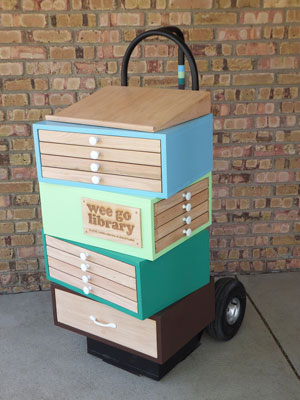 Have you ever walked past a Little Free Library, those house-shaped boxes along sidewalks filled with books? If so, did you look inside?
They're often filled with books, and if you look at enough of them, you'll see some of the same kinds of books start to repeat: romance novels, detective fiction, used children's books, an odd cookbook. The libraries seem to fill with surplus. And most people walk right by.
But Steven McCarthy, a graphic design professor at the University of Minnesota who lives in Falcon Heights, rarely lets a Little Free Library go un-inspected.
For the last year, McCarthy has been working on a project of turning miscellaneous Little Free Library books into works of art. He calls it the Wee Go Library, and it's his mobile collection of bizarre and whimsical books where pages have been turned upside-down or rearranged, bindings unbound and re-bound, and illustrations displaced and replaced into new and fantastical collages.
The project is housed in a beautiful mobile display case, and poring through its drawers and pages you find a "library" of creativity that seems to reveal the potential of the book itself.
Book arts and found art
The concept of the "readymade" has a long history in art, beginning with French surrealist Marcel Duchamp and his (in)famous urinal titled "Fountain." The idea is simple: any object can be a work of art if it is placed in the right context, framed in the right manner. There is beauty, grace and wonder in the things all around us.
The Wee Go Library is a literary variation on the practice, using books found in Little Free Libraries as a medium for creativity. The end result is a collection of unique art books that all came from the same mundane sources, the tiny libraries you see along the street.
"The project is to go to these people's libraries, leave a book, take a book and make it into a more interesting book than the one that I found," McCarthy said. "The books are all remixed, all altered in some way." And each recreated book is mapped to its source.
As a professor and artist, McCarthy has been creating art books for years. His projects range from digital remixing of media classics, such as Marshall McLuhan's Medium Is the Massage, to elaborate books that document electronic media. According to McCarthy, these projects explore what it means to make and read books in the 21st century, at a time when communication is rapidly changing.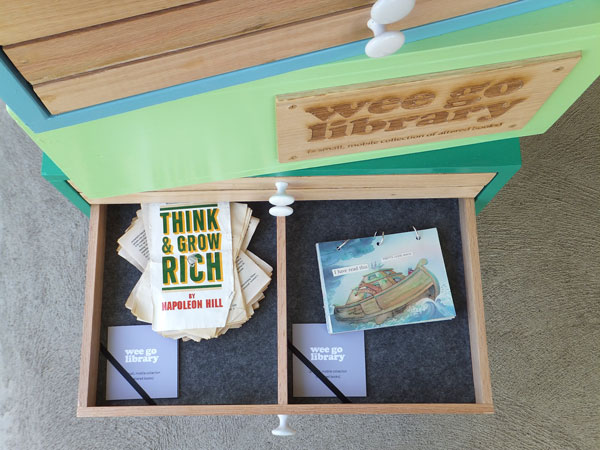 McCarthy's latest project explores the idea of surplus literature, those books that everyone seems to want to give away.
"In general I found few works of literature," McCarthy explained, describing the books he found in the 22 libraries that were part of the project. "There were lots of how-to books, how to get rich or how to lose weight, recipe books, children's books, some evangelical books, pulp fiction like Danielle Steele or Steven King. I didn't see any I'd actually want to read, and in most cases the book I left behind was better than the book I got."
Paging through them, McCarthy's books can make you laugh out loud. One of them, a graphic novel about teenage vampires, features two red ribbons tied through twin holes punched through the entire book to make ribbons of bookish blood. Another, Booker T. Washington's Up from Slavery, simply inverts the pages and the binding, so that you're always reading the book upside-down. Many of the books are full of words and captions that have been cut from one page and added into another, to create mash-ups that reward careful attention.
"I destroyed it, but I remade it," McCarthy said, describing one of his Wee Go books. "My rule with each book is that I could only make it from the book itself. I didn't cross-pollinate. My rule is take it from an LFL and remix it from within itself through collage, tearing, cutting, rearranging."
Each book contains a little map and description of where McCarthy found it. Some were taken from an elementary school in Minneapolis, others from middle-class and affluent neighborhoods, where the Little Free Libraries are typically found in front of people's homes. One of the books even came from the original Little Free Library in Hudson, Wis., where the artsy sidewalk library trend began.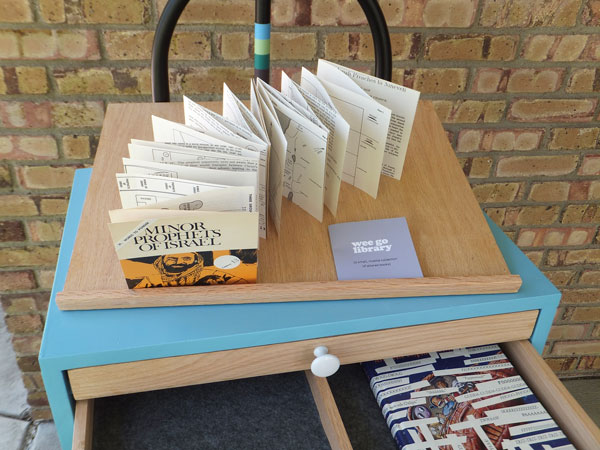 Probably the fanciest of the books is an old art catalog full of Picasso photographs that McCarthy found in a library just off Summit Avenue. The resulting book is like a modern-art kaleidoscope.
"It's an exhibit catalog of a Picasso exhibit at the Museum of Modern Art in 1957," McCarthy said. "It was fun improving on Picasso. Different heads, put them on different bodies, take text from different locations. I think Picasso would approve, actually."
McCarthy hasn't made his Wee Go art books public quite yet. He hosted a semi-public exhibit at the Minnesota Center for Book Arts in June and invited the people who own the little libraries where he got the books. After that, it's anybody's guess where the mobile book library might end up. McCarthy's other creative book projects have ended up in museums and art libraries around the country, including the Museum of Modern Art in New York City.
In this Kindle-era, when books are becoming little more than pixels, there are deep questions raised by McCarthy's project: What is a book in the first place? What makes it valuable? What are the limits of a book and the things that give it a coherent identity? These are questions McCarthy likes to play with.
"I harvested books from their libraries," he said. "But once I possessed the books I can do whatever I want with them. It's a trade. I left a perfectly good book. I took a book so I can do whatever I want with it. Who's to say what's more valuable?"
Next time you walk past a Little Free Library, take a moment to stop and check out what's inside. Who knows? You might find one of the books that McCarthy has traded for his project. Or you might find the next page-turner for the beach this summer. What you do with it next is entirely up to you.
Bill Lindeke is an urban geographer and writer living in St. Paul.