The honor system
Bungalow Pottery was closed for Small Business Saturday on Nov. 30, but owner Ken Chin-Purcell left some of his work out in case customers stopped in.
Chin-Purcell left a detailed note on how to weigh a mug or bowl to determine its price, and those who came by to shop were able to make a purchase by putting money in an envelope and slipping it under the shop's door.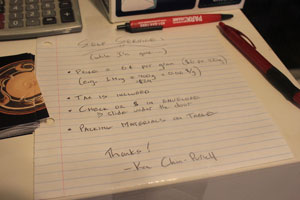 Chin-Purcell has done this before when he's been out of town, he says, and has considered just pricing the work. But his neighbor across the hall, Eddie Owens of Turning Heads Hair Salon, who keeps watch over the potter's work, said people enjoy weighing the pots.