The MN_thropocene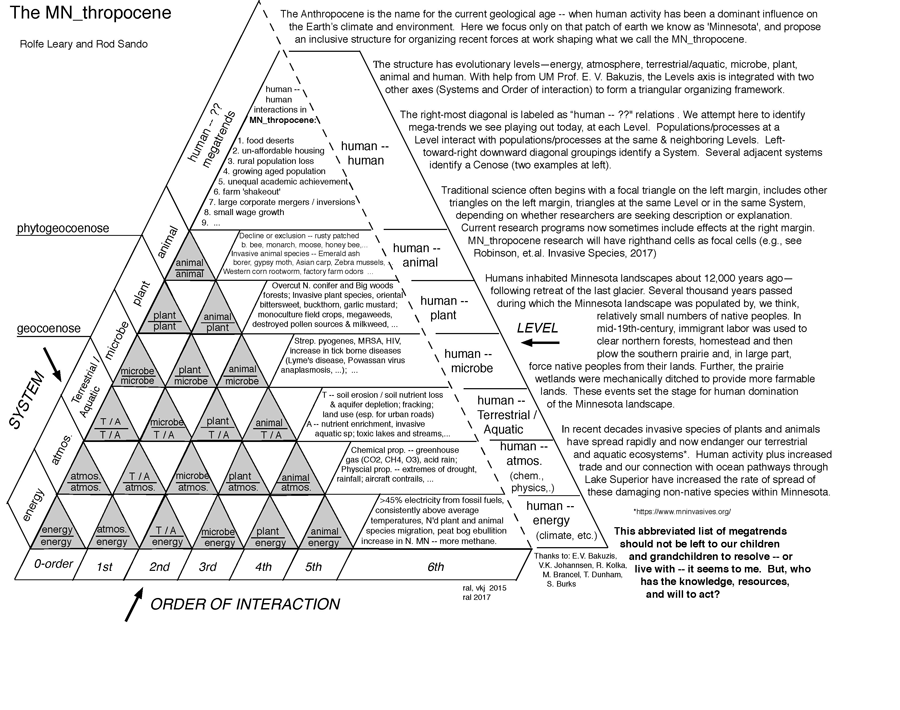 Have you heard of the Anthropocene? It's a word that defines Earth's most recent geologic time period as being human-influenced, or anthropogenic, based on global evidence that humans have altered atmospheric, geologic, hydrologic, biospheric and other earth-system processes.
Rolfe Leary, a retired USDA Forest Service research scientist, and Rod Sando, former head of the Minnesota Department of Natural Resources (DNR), have created this graphic to illustrate the MN_thropocene, which describes human influences in Minnesota.
Leary, Ph.D. Purdue University, says he became interested in how to organize reality in 1978 during a two-week research methods refresher course led by Prof. Mario Bunge in Coffee Hall at the U. Bunge's seminal work in ontology seemed particularly important as it influenced how reality is organized for study, Leary says: "The triangular framework shown here began as a way to organize some of Edward F. Haskell's ideas and was greatly advanced by suggestions from Prof. Egolfs V. Bakuzis, ecologist and world expert in triangular coordinate systems. The framework was also a significant aid when teaching research methods courses to graduate students.
"Personal research, begun in the 1960s, always focused on the plant—plant cell on the left side— I'm a forest stand dynamics guy! In the 50 years following, and with wider adoption of systems ontological perspective, it is clear more attention should have been paid by specialists at each level, on the right-hand side. I owe a thank you to graduate students at Gent University and the University of Leuven, Belgium, who insisted I include the 'microbe' as a distinct level."
Sando, a graduate of the U's College of Forestry, took a course from Prof. Egolfs V. Bakuzis, where he was introduced to Bakuzis' work in methods that helped in understanding the vast complexity of the natural world, he said.
"I spent the bulk of my career working at the Minnesota Department of Natural Resources," Sando said. "Managing natural resources is a very difficult enterprise since the complexity of nature must be managed through the lens of our complex society with all of its many competing factions.
"I rose to the position of commissioner of the department and assisted state government on a pathway toward sustainability. The knowledge I gained from Prof. Bakuzis served me well and is one of the best things I have ever done. If we know what needs to be done we can solve problems. A larger issue is the situation where we blindly proceed assuming we know what is the best course of action and fail to be successful."
Source articles
Here is a list of articles that Leary and Sando used used to create the MN_thropocene.
Human—Human
Human—Animal
Animal population decline or exclusion: https://www.fws.gov/midwest/endangered/lists/minnesot-spp.html
Invasive animal species: https://www.minnpost.com/glean/2016/12/zebra-mussels-found-leech-lake
https://dnr.state.mn.us/invasives/terrestrialanimals/index.html
https://www.ars.usda.gov/research/publications/publication/?seqNo115=327908
http://www.startribune.com/how-the-scourge-of-zebra-mussels-spread-across-minnesota/423913703/
http://www.mankatofreepress.com/news/local_news/factory-farming-debate-heats-up-in-southern-minnesota/article_b13117a5-eb26-5b78-aafa-86088338b189.html
https://www.extension.umn.edu/agriculture/manure-management-and-air-quality/feedlots-and-manure-storage/offset-odor-from-feedlots/
Human—Plant
Lumbering in Minnesota: https://www.jstor.org/stable/3982846?seq=1 – page_scan_tab_contents
Invasive plant species: https://www.dnr.state.mn.us/invasives/terrestrialplants
Monoculture of field crops: https://www.mnagmag.org/commodities/corn/corn…/corn-in-Minnesota-and-fun-facts/
http://www.startribune.com/minnesota-farmers-turn-away-from-wheat-corn-beans-more-profitable/22110
Pollinator food sources: http://www.pollinator.org/guides.htm
Human—Microbe
Human – borne diseases: http://www.health.state.mn.us/news/pressrel/2016/hiv042716.html
http://www.mayoclinic.org/diseases-conditions/mrsa/basics/definition/con-20024479
Animal borne diseases:
http://www.health.state.mn.us/divs/idepc/dtopics/tickborne/diseases.html
http://www.health.state.mn.us/divs/idepc/diseases/powassan/basics.html
Human—Terrestrial/Aquatic
Terrestrial
1 . Soils—erosion and nutrient loss: https://www.nrcs.usda.gov/wps/portal/nrcs/detail/mn/technical/dma/nri/?cid=nrcs142p2_023559
https://www.extension.umn.edu/agriculture/nutrient-management/phosphorus/the-minnesota-phosphorus-index-assessing-risk-of-phosphorus-loss-from-cropland/
https://www.extension.umn.edu/agriculture/nutrient-management/nitrogen/understanding-nitrogen-in-soils/
Invasive terrestrial plants : http://www.dnr.state.mn.us/invasives/terrestrial
Invasive terrestrial animals: https://www.dnr.state.mn.us/invasives/terrestrialanimals/index.html
Aquifer depletion:
https://www.pca.state.mn.us/water/threats-minnesotas-groundwater
http://www.dnr.state.mn.us/whaf/about/scores/hydrology/waterwithdraw.html
Urban Land use for roads: https://streets.mn/2014/01/06/why-minnesota-might-be-planning-too-much-road-expansion/
Aquatic
Nutrient enrichment: https://water.usgs.gov/nawqa/informing/nutrient.html
https://www.epa.gov/nutrientpollution/problem
Invasive aquatic plants: https://dnr.state.mn.us/invasives/aquaticplants/index.html
www.dnr.state.mn.us/invasives/aquatic
Invasive aquatic animals: http://www.startribune.com/how-the-scourge-of-zebra-mussels-spread-across-minnesota/423913703/
Toxic lakes and streams: http://www.twincities.com/2016/05/30/minnesota-blue-green-algae/
Human—Atmosphere
Chemical properties: https://www.minnpost.com/earth-journal/2016/12/globe-warming-methane-emissions-may-be-canceling-gains-carbon-dioxide
Physical properties: http://www.dnr.state.mn.us/climate/summaries_and_publications/mega_rain_events.html
http://www.smithsonianmag.com/science-nature/airplane-contrails-may-be-creating-accidental-geoengineering-180957561/
Human—Energy
Fossil fuel burning : https://www.eia.gov/state/?sid=MN
Peat bog/soil ebullition: https://symposia.mtholyoke.edu/abstracts/0000/2678/seniorsymabstract2.pdf
Northward migration of plant/animal species: https://www.fs.fed.us/nrs/news/review/review-vol11.pdf
https://www.minnpost.com/environment/2014/09/moving-forest-climate-changes-ecosystems-will-need-shift