The Singing Sinatra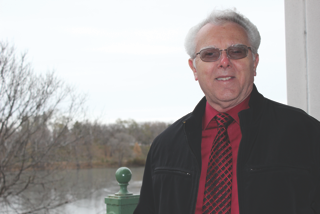 By Rob Passons
Bill Rasmussen never planned to be a Frank Sinatra cover artist. The 72-year-old native New Yorker didn't even know he possessed the talent until he was nearly 50 years old.
"I wasn't a singer," Rasmussen said. "I mean, doo wop on the playground when I was a kid, but that was about it."
Rasmussen was born in Brooklyn, N.Y., in 1945 and spent his formative years with Sinatra (and others of his ilk) supplying the soundtrack for his childhood. "My sister was seven years older than me, and she loved Sinatra," Rasmussen said. "She was playing those albums all the time."
In 1963 Rasmussen joined the Navy after he dropped out of high school. "I joined the Navy because the Navy gave me a home," Rasmussen said. "I was one of those kids just running the streets and hanging out in pool halls and bowling alleys."
Rasmussen met his wife, Ginny, in 1967 while the two were serving on the same aircraft carrier. "The Navy gave us a great wedding present," Rasmussen said. "They posted us in England for three years."
The pair traveled the world together for the next 18 years and visited Como Park to see Jenny's mother when they got shore leave. "Jenny grew up in Minnesota," Rasmussen said. "I'm living in the house where she lived as a little girl."
The Rasmussens both retired in 1985 and made Como Park their home.
In 1988 the Rasmussens were on a double date at Old Mexico restaurant on Lexington Avenue in Roseville with some old friends when a man got up and sang "New York, New York" to karaoke. "I'd never even heard of karaoke," Rasmussen recalled.
Jenny and their friends attempted to get Rasmussen to go up and show the audience what a real New Yorker could do with the tune, but he declined.
Three years later, he returned to Old Mexico for karaoke night, and he finally got up the nerve to take the stage. "I'd had a few beers," he said. "I sang 'New York, New York' and I brought the house down. It felt great."
After the performance, Jenny said it sounded like he'd been singing Sinatra for years, and for his next birthday, she purchased karaoke lessons for him. Rasmussen sang "New York, New York" for his instructor, who suggested he add "All the Way" and "My Way" to his lineup. From 1988 to 1999, those three songs represented the extent of his karaoke repertoire. Jenny was Bill's biggest fan until she died in 1996.
Rasmussen may have continued his three-song karaoke hobby if not for a chance meeting at church. "Her name was Jeanne Rogers, and she introduced me to summer theater at the Como Park pavilion," he said.
Rasmussen landed a part in the musical that was performed in the summer of 1999, and returned the following year for another go.
"I remember somebody telling me that I just kept getting better and better, and that's all I needed to hear," Rasmussen said. "I went out and got a tux and a sound system with Sinatra background music, and the Bill Rasmussen Singing Sinatra Favorites show was born."
The creation of Rasmussen's show corresponded with the theater group's disbanding, and he took over the vacant slot. Rasmussen introduced Como Park Productions in 2001, and for the next 14 years, he produced summer shows at the Como Lakeside Pavilion with casts of more than a dozen performers. Some of the shows were essentially a song-and-dance variety hour, while others drew upon themes like "The Love Boat," a USO show and a Hawaiian beach party. "I planned the last show I did in 2015 for 10 years," Rasmussen said. "It was the 100th birthday show for Frank Sinatra."
When the curtain came down on his final show, Rasmussen took the entire cast (and spouses) out to Old Mexico. "I bought them all dinner," he said. "It was like the Sinatra era, when they would finish a show and they'd all go out."
Through it all, Rasmussen continued his Singing Sinatra show. He and his cocker spaniel, Garth, traveled to 32 states, Canada and Mexico and put 52,000 miles on his motor home. His three-song lineup quickly grew. "Sinatra recorded 1,088 songs," Rasmussen said. "I learned 70 of them."
In 2015, he retired Como Park Productions. "It was taking up all my time," he said. "I had to pass on too many things I wanted to do."
With the demise of Como Park Productions, Rasmussen found he had a little more time on his hands than he desired, and he cast about for a way to fill the hours while contributing to the community. When he heard about the Como Park/Falcon Heights Block Nurse Program, he promptly volunteered for a driver position.
The block nurse program offers a variety of in-home services for elderly residents in the area, and Rasmussen enjoys his new job as a chauffeur.
Rasmussen never imagined his Singing Sinatra days would come into play in his new gig, until a passenger asked him what he did for a living before he began shuttling people to their medical appointments. He told her he was retired from the Navy, and he sang Sinatra.
"She asked me to sing her a song, so I did," he said. "I sang 'You Make Me Feel So Young.' "
And with that, Rasmussen discovered a new stage for his brand of Sinatra. Word of the Sinatra-singing chauffeur spread, and calls for his services quickly increased. Fox 9 News and the Star Tribune sent reporters to cover the story.
Rasmussen realized that, in some cases, his singing was more than just entertaining for his elderly passengers. "I remember this one woman was really nervous and apprehensive about going to the doctor, so I sang to her," he said. "That seemed to relax her."
Jennifer Grilliot, volunteer and outreach coordinator for the block nurse program, is glad to have Rasmussen on call. "What impresses me about Bill is how much he cares about taking the time to brighten someone's day, and he does it with such style," she said. "We deeply appreciate the years he has given tour program and area seniors."
Rasmussen's show schedule has tapered off over the last few years, but he still gives the occasional performance. His newfound free time has afforded him the opportunity to get more involved in his community and to explore his beloved Como Park.
"When my wife first took me to Como Park all those years ago, I fell in love with the place," Rasmussen said. "It's a jewel."
You can check out Rasmussen's Como Park show from a few years ago at www.youtube.com/results?search_query=Memories+of+Como+Park+-+The+Musical.
The Como Park/Falcon Heights Living at Home Block Nurse program is a nonprofit serving seniors (65 and older) in the Como Park and Falcon Heights area. They have been providing high-quality affordable care for seniors for nearly 25 years, allowing them to live safely in their home and community. The program has five staff members, including a registered nurse, and several volunteers who provide services ranging from free rides to medical appointments to home-helpers who assist with tasks around the house, also free. For more in formation, check out the website, www.comobnp.org.
Rob Passons lives near Mille Lacs Lake and worked as a reporter for the Mille Lacs Messenger for seven years. He is a frequent weekend visitor to the Como Park area.