The village that built a playground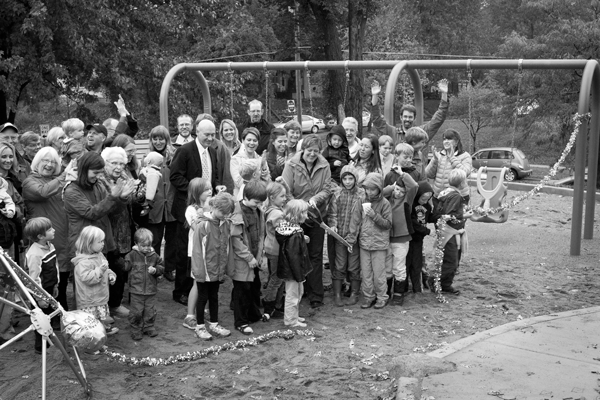 Monkey Island fans gathered at the new playground at 2260 Hendon Ave. in St. Anthony Park on Oct. 15 to cut a shiny gold ribbon and officially open the new facility.
Deanna Seppanen (holding the scissors) and a group of neighbors spearheaded the effort to raise funds to build a new playground to replace the 1960s-era equipment that was stripped from the park by the City of St. Paul's Parks and Recreation Dept. without public notice in spring 2012.
Through contributions from area residents (including $5,000 in seed money from June Estelle, whose children and grandchildren played at that park), grants from the BNSF Foundation, St. Anthony Park Community Foundation and Sunrise Banks, and working with the city, the park was landscaped and swings, a slide, a jungle gym, benches and a picnic table were added. The park is now officially open for business. Park Bugle photo by Lori Hamilton