Transition Town news: Ride your bike to the toys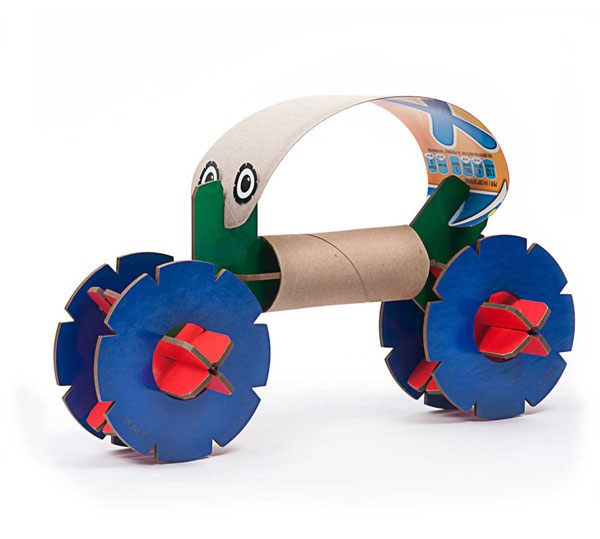 As an avid recycler, I was disappointed to learn you can't recycle paper towel and toilet paper tubes. They can be composted (that's my method now), but because the paper has already been reused multiple times, the fibers are too short to turn into paper again.
The people who started YOXO, a south St. Anthony Park company, have invented a fun way to keep that pile of tubes out of the waste stream: make them into toys.
YOXO makes colorful connectors that clasp the edges of all those unneeded tubes (cereal boxes, too!) to let kids and grownups build robots, castles or whatever you can imagine.
The connectors come in Y, X and O shapes and can be used with other building toy sets, such as LEGO. YOXO has won multiple awards for its creativity and playability. "YOXO's mission is to keep kids creating," says founder Jeff Freehand Nelson. All while being as sustainable as possible: the company uses post-consumer recycled wood pulp from Midwestern sources, minimal packaging, and runs a Windsource-powered factory.
One cool manufacturing detail: The connectors are cut by water jets moving at the speed of sound. No need for cutting dies, which wear out and need to be replaced.
You can see how YOXO does all this on Saturday, July 16, by joining Transition Town–All St. Anthony Park on a short bike ride to YOXO for a tour, hosted by our Zero Waste and Transportation action groups.
We'll start the ride at 1 p.m. at Raymond and Como avenues. First, we'll stop at the St. Anthony Park Community Gardens on Robbins Street near Raymond Avenue at about 1:15 p.m. to meet up with anyone from south St. Anthony Park who wants to join in. You can meet us at either spot along the path, or come to YOXO at about 1:30 p.m.
The bike ride and tour will be great for people of all ages. Nelson at YOXO tells me we'll get to play with the toys, too, so I hope there are some children along for the ride.
YOXO is located at 1045 Westgate Drive, Suite 50, right next to the University of Minnesota Transitway bike path. It's part of the up-and-coming Innovation District that straddles the St. Paul-Minneapolis line, which includes other area businesses like Dero (maker of bike racks), the Minnesota Lions Eye Bank and Surly Brewing.
The return bike trip, along the same route, will begin by 3 p.m.
RSVPs are welcome (to transportation@TransitionASAP.org), but not required. We'd love to see you there for an inside look at this interesting local business.
Pat Thompson is a leader in the transportation action group for Transition Town – All St. Anthony Park.
Bike ride to tour YOXO
Saturday, July 16
Meet at 1 p.m. at Raymond and Como avenues
or meet at 1:15 p.m. at St. Anthony Park Community Gardens
or meet at 1:30 p.m. at YOXO, 1045 Westgate Drive, Suite 50