Transition Town update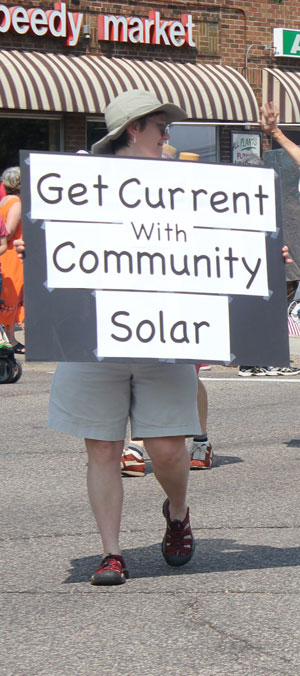 District 12's Energy Resilience Group is leading a grassroots effort to consider what we can do to limit climate change, enhance the local economy and strengthen our sense of community.
Several action groups were formed at the community meetings last winter.
Here is a snapshot of their work and opportunities to get involved.
Local power and food
Volts! Amps! Watts up? Community Solar! This refrain at the Fourth of July parade down Como Avenue highlighted the SAP Community Solar action group, which plans to limit our carbon footprint by generating local, sustainable electricity.
The group is drafting budgets and plans for large solar photovoltaic arrays to be installed on the roofs of large local buildings with funds from St. Anthony Park subscribers. Several building owners are interested, including St. Anthony Park Elementary School and Langford Park Recreation Center.
Producing food locally and using land productively are goals of the Sustainable Land and Food action group. According to co-leader Lois Braun, Luther Seminary has offered gardening space for 19 new community garden plots.
To keep up with the harvest, training in food preservation also is being planned for this fall, beginning with water-bath canning.
Co-leader Kit Canright hopes to develop opportunities for community canning so that, "Together, we'll heat up just one kitchen, instead of many."
Reducing waste
How low can you go? Reducing home cooling and heating makes the biggest dent in energy use.
The Home Energy Curtailment action group has two goals for the near term. The first enables homeowners to prioritize steps for energy reductions during renovation: Should you replace those old single-pane windows or seal and insulate the attic? The second goal is to provide more extensive home-performance assessments that give greater detail and a broader range of recommendations than a typical Home Energy Audit.
The Transportation Action Group quickly decided that reducing the number of trash haulers that ply our alleys and streets would benefit us in many ways. In this voluntary program, neighbors organize to support a single hauler by street or alley. Additionally, neighbors reduce their trash volume and share a can with others to limit the number of stops.
"Less is better. None is best!" could be the jingle of the Zero Waste action group. "Reduce, Reuse, Recycle" is good, but what about Refuse, Re-feed, Rot and Return?
They recommend that you don't buy or accept what you don't need, give your unpalatable leftovers or scraps to chickens (yours or the neighbor's), compost what you can and return the compost to the garden.
Friendly housing options
The Land Use Efficiency group is focusing on increasing the use of and the benefits we derive from our "single-family" lots.
Ideas include broadening housing options available to people in all life stages and economic means. Examples can be seen locally in duplexes that do not alter the character of our traditional single-family homes but smartly reduce our environmental footprint.
Other cities have embraced small backyard or alley houses built for seniors, singles or students to live in manageable, beautifully designed and energy-efficient spaces.
Working with schools
Retired public school teacher Mimi Jennings is linking teachers at local public and charter schools with the neighborhood action groups. She reports that students are solving transportation-related issues, producing food in school gardens and questioning the use of unnecessary packaging.
Reflective Circle
It can be deeply unsettling to grasp the scope of damage we are causing to the Earth and its ecosystems. Reflective Circle exists to help us deal with this uncertainty and to consider how to approach such an overwhelming problem.
Members have been meeting with individuals and small groups upon request.
Room for more
The current suite of action groups doesn't cover all the ways we can act. New groups are welcome.
What addresses your passion: tool sharing, water conservation, bartering for services, backyard chicken and fish production, vital and vivid alleys?
Other local efforts are under way, such as the Neighborhood Sing on the third Monday of each month at Luther Seminary's Olson Center, 1490 Fulham St., and the Creative Enterprise Zone, which is working to support creative businesses in the Raymond and University area.
Participating in local activities and supporting local artists and businesses also reduces fuel use, strengthens social ties and adds to the vitality of the neighborhood. What businesses are missing?
Community meeting Oct. 8
Grassroots efforts are important, but government priorities, policies and programs affect the scale and speed of change. Ask your political representatives how their levels of government can contribute at the District 12 annual meeting on Tuesday, Oct. 8, at the Olson Campus Center of Luther Seminary.
Information and contacts
SAP Community Solar: Barry Riesch, bwrvfp27@gmail.com or https://sites.google.com/site/ttsapsolar/home
Sustainable Food and Land: Lois Braun, brau0259@umn.edu, and Kit Canright, kit.canright@gmail.com
Home Energy Curtailment: Tim Wulling, t.wulling@earthlink.net
Transportation: Pat Thompson, pat@marksimonson.com
Zero Waste: Gary Carlson, gcarlso5@hotmail.com
Land Use Efficiency: Phil Broussard, pbroussard@architron.com
School Liaison: Mimi Jennings, lenandmimi@usfamily.net
Reflective Circle: Ranae Hanson, ranae.hanson@gmail.com
Starting new groups: Tim Wulling, t.wulling@earthlink.net or Michael Russelle, michael@cedarfencepress.com
Phil Broussard, Ranae Hanson, Mimi Jennings, Regula Russelle and Tim Wulling contributed to this article.