Virginia Sem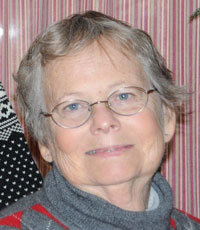 Virginia "Ginnie" Lucile (Swedeen) Sem, 76, of Lauderdale, died Dec. 29, 2017.
She was born July 9, 1941, in Minneapolis to Harley and Vergie Swedeen. She grew up with six siblings in Minneapolis, mostly on the riverbank under the Washington Avenue Bridge, where her father loaded and unloaded oil tanks. She graduated from Roosevelt High School, Minneapolis, in 1959. She worked for Northwestern Bell Telephone Company for eight years after high school. She later worked for Miniature Merchants in Bandana Square, St. Paul.
On April 2, 1966, she married Gilmore Sem. They lived in Lauderdale ever since. In 1971, they adopted Sonya Su Sem. Their home was always shared with two cats. They traveled extensively, domestically and internationally.
Survivors include her husband; daughter, Sonya (Robert) Welch; sister, Lois Gibbs; brothers, Raymond (Loraine) Swedeen, Kenneth (Molly) Swedeen and Herbert (Beverly) Swedeen; sistersin- law, Patricia Swedeen and Marlene Swedeen. Her two tuxedo cats, Ole and Lena, miss her very much.
She was preceded in death by her parents; brothers, Donald and Wilfred; and brother-in-law, Richard Gibbs.
Her memorial service was held Jan. 13 at St. Anthony Park United Church of Christ. Ginnie's ashes will be buried at Messiah Cemetery north of Underwood, Minn., later this year.