Wildflower Project aims to turn scrappy pieces of land into pollinator-friendly gardens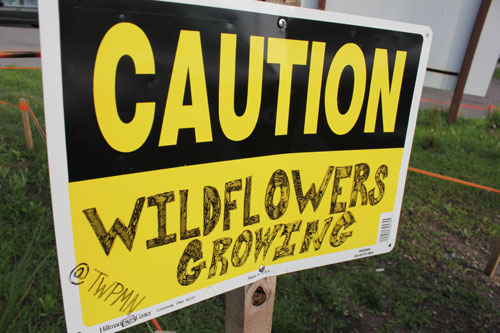 By Ned Leebrick-Stryker
Matt Wildenauer was tired of seeing plots of unused industrial space full of weeds and neglect and decided to make a change. Two summers ago, he created the Wildflower Project, a nonprofit based in St. Paul that has seeded a number of pollinator-friendly gardens in underutilized and vacant spaces around the Twin Cities, including several in St. Anthony Park.
"Our mission is to build pollinator habitats in [these] spaces by planting wildflower gardens" and bring "vibrant natural beauty back to our urban communities," said Ean Koerner, a member of the Wildflower Project team. Koerner and Wildenauer met in college, where the origins of the Wildflower Project can be traced.
Wildenauer "saw an opportunity to plant flowers in [forgotten areas] to beautify the neighborhood," said Koerner.
Both Minnesotans and University of Minnesota graduates, Koerner and Wildenauer have an affinity for their home state that drives them to improve the area. "I have a lot of St. Paul in my blood," Wildenauer said.
Koerner and Wildenauer brought on a third partner, Matthew Peterson, and from there, the three began their work. Their priority: pollinators.
"One out of every three bites of food you take is thanks to a pollinator, and pollinators are struggling," Wildenauer said. "Unfortunately, pollinators like bees and butterflies do not have the proper nutrition to continue to maintain their populations. If they don't eat, we don't eat."
The organization has partnered with the St. Anthony Park Community Council and planted gardens outside of local establishments, including Sunrise Banks on University Avenue and Urban Growler Brewing Co. on Endicott Street in south St. Anthony Park. They are looking to transform a weedy hillside on the north side of the park at Joy of the People (JOTP) on Cromwell Avenue that Koerner said "could be the city's premiere permaculture garden." A fundraising event for the garden is being planned for the fall. "We call it our 'Genesis' garden, as it was the first garden that inspired us to legitimize our project," he said.
In addition to consulting with master gardeners, environmental lawyers, research scientists and land development professionals, the organization is mainly made up of volunteers.
"We aim to foster education and awareness through partnerships and volunteerism," Koerner said. "We want [our gardens] to be selfsustaining in five years, hopefully less."
Before that happens, the Wildflower Project welecomes assistance. Want to help? Koerner suggests the following:
• Have some unused land? Donate it for a garden.
• Donate money for the Wildflower Project to purchase seed and plants.
• Partner with the Wildflower Project via a garden, volunteer event, volunteer at upcoming projects, monetary donation or speaking engagement.
• Plant bee-friendly flowers on your own at your home or business and don't use harmful pesticides.
Learn more at thewildflowerprojectmn.org.
Ned Leebrick-Stryker is a student in the University of Minnesota School of Journalism and Mass Communication.