Woman's fascination with India culminates with e-book series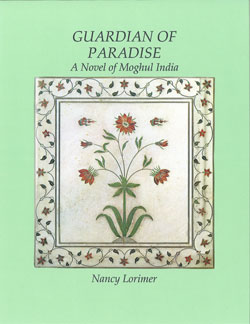 Have you ever become so fascinated by a subject that you followed every available resource, each path leading to another branch—and another and another? That happened to Nancy Lorimer when she lived in India and became captivated by Indian architecture, culture and history.
The result is a series of six books about the Moghul Empire that use fictionalized accounts to depict more than 200 years of the Indian dynasty.
Lorimer grew up in Indiana and completed all her schooling there, attending Valparaiso University, Indiana University and Notre Dame for graduate work. After receiving her doctorate in biology (with a concentration in entomology) she and her husband, Bill, lived and worked first in Kenya and then in Delhi, India, a year in each location. They used that opportunity to travel around India, and Nancy became more and more interested in the architecture and religions of the country.
When they returned to the United States, the Lorimers settled in St. Anthony Park and Nancy took a job with the U.S. Forest Service lab at the University of Minnesota, but she continued to pursue her interest and began to accumulate materials (mostly books) about India. (She became very familiar with the Ames Library of Southeast Asian History at the University of Minnesota and the inter-library lending system.)
Eventually, the sheer amount of information Lorimer accumulated forced her to ask herself what she should do with it all, she said. She wanted to share her information with others and had always been a writer, keeping journals and attending classes at the Loft Literary Center but knew she was not a historian and couldn't write a history book with all the required footnotes and attributions. She could, on the other hand, write fiction that would delve into all the areas that she had researched, she said.
The first two books she wrote concern Emperor Akbar, who was contemporaneous with Queen Elizabeth I of England and who reestablished and consolidated the Moghul Empire (and was the grandfather of the builder of the Taj Mahal). The first book, Nineteen Fires, was written in longhand. It took 18 months to write and revise (the longest of any of the six). She spent much time concentrating on the characters' motivations, the themes that should belong in each book and how to present information about gardens, art, harems, elephants, theology, architecture and religion in such a way that it was integral to the plot.
All the characters are historical except for some peripheral figures such as serving maids or merchants. She used ancillary characters to show aspects of nonroyal lives and to talk about skills such as bricklaying and inlay work. She used primary sources, even some by scribes who reported about the palace and its rules in real time.
The six books cover the time from the beginning of the Empire, under Emperor Babur, in 1526, to when the British took over and the last ruler, Emperor Bahadur Shah, was exiled to Burma (now Myanmar) in 1857.
Lorimer wanted to share what she had learned with others, but had no luck selling her books to a traditional publisher. By this time she had typed them all into her computer, so it was possible to self-publish and sell the work as e-books on Amazon.com. She spent months formatting the books to Amazon's specifications, designing covers, establishing a publishing company and registering it with the state and purchasing an ISBN number.
The books sell for 99 cents each (making money was not the prime goal) and may be downloaded to a computer or to a Kindle. Go to Amazon.com, search for "Nancy Lorimer" or "Novels of Moghul India," and you will find them all. Lorimer receives 30 percent of the money for each book sold; although she has sold only 430 books she is satisfied that at least some others have read what she has written, and it is interesting for her to see in which countries her readers reside.
Lorimer has bags and boxes of books and materials about India that she has collected over the years that no institution is interested in or capable of acquiring, so she would like to find a suitable home for them. Readers?
Lorimer says that she is not interested in writing any more books—"that itch has been scratched"—but she is now involved in tracing her family's genealogy, collecting photos and stories as well as lists of her ancestors. Well, maybe one more book.
Michelle Christianson is a piano teacher, musician and longtime contributor to the Park Bugle.