Your guide to the Minnesota State Fair's new foods and attractions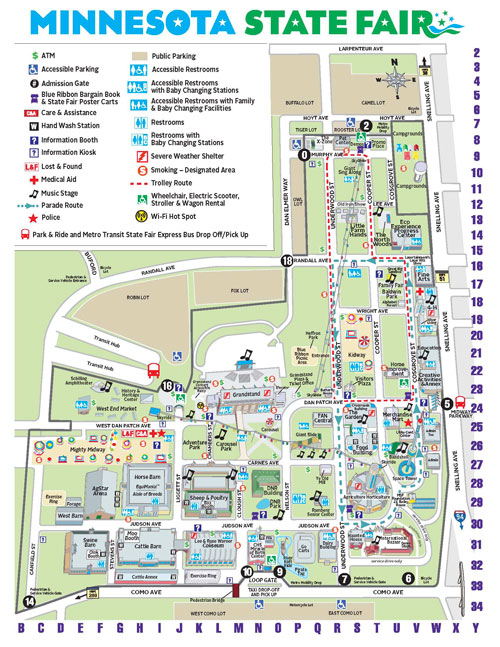 The anticipation for the "12 best days of summer" is bittersweet. Our Minnesota State Fair is one of the most beloved fairs in the country, stretching over nearly two weeks of fun-filled, food-filled days in the waning days of summer. On the other hand, the fair also signals the end of this glorious season, with (some) kids going back to school before the fair ends.
How do you make the most of this end-of-summer tradition?
The fair's website highlights all the new foods and attractions it introduces every year. Check them out at www.mnstatefair.org, but here are just a few things to eat and do starting Thursday, Aug. 25.
New foods
This is what we wait for all year, isn't it? You can't possibly eat everything at the fair (but no shame in trying), so here are just a handful of the exciting new options this year.
Sweet
Call It Breakfast: Start the day off right at the Dairy Goodness Bar. Grab a vanilla sundae topped with chunks of fluffy donuts, chocolate and latte-flavored syrups and, of course, sprinkles.
Chocolate Agate Crunch: Opening its doors in 1897, the Hamline Church Dining Hall is the oldest food vendor at the fair and one of the last church dining halls remaining there. These old-timers keep it fresh by introducing a new, exclusive Izzy's ice cream treat each year. This summer it's chocolate Caramelia ice cream, topped with chocolate cookie crumbles and edible chocolate rocks inspired by the Lake Superior agate, all folded with a salted caramel swirl.
Maple bacon shave ice: The maple bacon craze is alive and well at MinneSnowii Shaved Ice in the West End Market. This year's new flavor will be topped with bacon bits and a maple syrup drizzle. Also new this year is sweetened condensed milk drizzled over your choice of shaved ice for a creamy twist reminiscent of a traditional Taiwanese treat.
JonnyPops frozen banana: JonnyPops, whose motto is "a better pop for a better world," crafts its frozen treats with all-natural ingredients and donates a portion of proceeds and products to the Hazelden Betty Ford Foundation. This year's entry is a frozen banana with cinnamon and cream dipped in dark chocolate and served on a stick.
Strawberry Donut Delight: Get a jumpstart on the calorie intake for the day with a glazed doughnut, sliced in half and filled with strawberries and whipped cream. Find it at the Strawberry Patch, which is also known for its fresh berries—a nice break from all the friedness.
Carpe Diem: From the brilliant mind of Chef Thomas Kim, owner of Minneapolis restaurant Rabbit Hole, comes this Taiyaki (fish-shaped) buttermilk miso waffle cone filled with balsamic-roasted strawberry compote and topped with vanilla ice cream, graham cracker crumble and a fresh strawberry. The Carpe Diem will make a limited appearance Aug. 25-30 at the Midtown Global Market booth in International Bazaar.
Savory
Beer Brat Buddies: Oktoberfest in August? Why not? At Sausage Sister & Me in the Food Building, you can get an Oktoberfest beer brat in a German pretzel bun topped with sauerkraut, chopped onions and a choice of zesty mustards in a serving large enough for two. Pro tip: Also try the sriracha sliders stuffed with molten Monterey Jack cheese.
Bang Bang Fresh Chicken Tenders: Lulu's Public House has arguably the best seat in the house with its rooftop patio in the West End (complete with water misters when it's blazing hot). Try Lulu's new fried chicken tenderloins served with Bang Bang sweet and tangy chili sauce.
Rustic Beef Pastry: Year after year, the French Meadow Bakery & Café stand gets things right, and we are excited to try their flaky crust filled with Moroccan-spiced beef and baby spinach, topped with creamy goat cheese.
Paneer on a Spear: Hot Indian Foods is a popular food truck found around the Twin Cities. Aug. 31-Sept. 5 it will occupy Midtown Global Market booth at the International Bazaar and serve, among other things, a stick of deep-fried, seasoned paneer cheese coated with a local craft beer batter and served with tomato-garlic chutney. Did you know there are more than 90 food items on a stick at the fair? One more can't hurt.
Iron Range Meat and Potatoes: Giggle's Campfire Grill, brought to you by the affable owner of Gabe's in the Park, is the perfect go-to for a healthier lunch and a shady seat, along with a great line-up of craft beers. This year they've introduced this hearty slice of seasoned beef with a layer of cheddar cheese, topped with mashed potatoes, baked and drizzled with a wild rice gravy.
Tot Boss Food Truck: The Tot Boss food truck has been cruisin' the streets of our fair cities for five years. This year it has snagged a coveted spot at the fair where Tot Boss will serve tater tots loaded with a variety of toppings, including bacon crumbles, chili and much more. Look for the black-and-yellow trailer on the east side of Underwood Street between Wright and Dan Patch avenues.
New attractions
Oh, right, there are other things going on at the fair besides stuffing of faces. Here are just a few attractions to look forward to.
Recipe Card Roundup: Each day, a limited number of collectible cards featuring six top recipes from 2015 will be given away from 10 a.m.-4 p.m. in the Creative Activities Building. This year's Recipe Card Roundup giveaway will include Zesty Salsa, Strawberry Jam, Banana Bread, Gluten-Free Pumpkin Bars, Apple Pie and Chocolate Brownies. A schedule of which recipes will be given away on specific days will be available on the free daily schedules.
National Park Service Centennial Day at Carousel Park: To celebrate the National Park Service Centennial, Minnesota's six national parks will host a day filled with interactive activity stations by the parks and their partners, aiming to educate, entertain and inspire. There will be entertainment by the Lost Forty, Asian Media Access, Mark Twain and Trivia Mafia, and participants can collect an exclusive State Fair-only stamp as part of the National Park Service passport program. The event takes place at Carousel Park on Monday, Aug. 29, 9 a.m.-6 p.m.
Eco Experience: The Progress Center is home to Eco Experience, a partnership of the State Fair, Minnesota Pollution Control Agency and more than 150 organizations and businesses across the state. The building has many interactive, fun ways to learn about protecting the environment, including a couple of new exhibits in 2016. Check out the 15-foot Paul Bunyan, dressed to impress in an outfit meant to call attention to a giant-sized waste problem. Or visit the  living green wall, with more than 14-feet of living plants created by the University of Wisconsin-River Falls. The wall will highlight study findings that show foliage can positively impact college students' well-being and academic performance. Get more information at www.ecoexperience.org.
Fairchild and the Moo Booth celebrate: Happy birthday, Fairchild. The beloved face of the fair turns 50 this year and doesn't look a day over 30. Fairchild the Gopher is the one wearing a green pinstriped jacket; his sidekick and nephew, Fairborne, wears blue stripes. You can pose for photos with the birthday boy daily 11 a.m.-4 p.m. at Visitors Plaza.
And a very happy 25th anniversary to the Moo Booth in the Cattle Barn. The building features cow-milking demonstrations, fascinating facts about cattle care and behavior, and a line-up of cattle breeds on display. There will be special anniversary activities daily at 12:30 p.m. and an anniversary party on Friday, Aug. 26.
Hen House: The CHS Miracle of Birth Center is now home to two flocks of hens in a new modern housing facility designed just for them. Discover how farmers use egg production systems and see a backyard chicken coop up-close. If you're lucky, you'll even get to see the birds lay eggs.
Draft Horse Barrel Racing: Known for being regal and majestic, draft horses will stretch out their stride and thunder through barrels in this competition making its debut at the State Fair on Sunday, Aug. 28, at 8 a.m. in the Warner Coliseum.
New vendors
If shopping is your real reason for visiting the fair, these new vendors might be worth a stop.
Mundo Village in the International Village will feature a variety of international artisans with products from Central Asia and Central America, including lanterns, repurposed wallets and purses, pottery, artwork and more.
Holly House Boutique in the Grandstand will carry items by local artists, including pillows, soaps, pottery, home décor, tote bags and more.
Wish Boutique, also in the Grandstand, will have Minnesota-themed apparel, custom-designed jewelry and reversible mixed-material skirts.
16 oz. Society will carry Midwest craft beer apparel and lots more fun items in the upper level of the Grandstand.
Log Cabin Tea Co. will set up shop in the Creative Activities Annex, selling loose-leaf teas and tea-brewing accessories, hand-screened pillows and tea towels, along with framed rustic burlap prints.
Collaborations will be in the upper level of the Grandstand selling homemade Minnesota-themed items, including candles, necklaces, T-shirts and more.
Celebrate Prince at the fair on Aug. 26
The Minnesota State Fair is inviting everyone to Unite in Purple and celebrate the life of Prince on Friday, Aug. 26, from 5 p.m. to close. Join fellow fair-goers in a purple celebration of the life of Minnesota's beloved son.
Fair visitors are encouraged to wear purple as a tribute to Prince and his tremendous impact on Minnesota musical history.
A number of fun events are planned throughout the fairgrounds celebrating His Purple Highness:
Prince music, tributes and cover songs at stages throughout the fairgrounds
 A Prince Party in the Park with music and dancing led by GenerationNOW's DJ Dudley D, Prince's personal DJ, at Carousel Park
Lavender lighting on iconic fair buildings and carnival rides
A one-night-only Lasertainment's Laser Hitz show featuring a Prince finale
 Unite in Purple glow bracelets for the first 5,000 guests through the gates after 5 p.m. 
Unite in Purple buttons for the first 7,500 visitors through the gates after 5 p.m.
 Following Charlie Wilson and Fantasia's show at the Grandstand, the Minnesota State Fair Fireworks Spectacular will be set to Prince music and will feature a pyrotechnic Prince tribute