Zucchini: versatile, prolific, tasty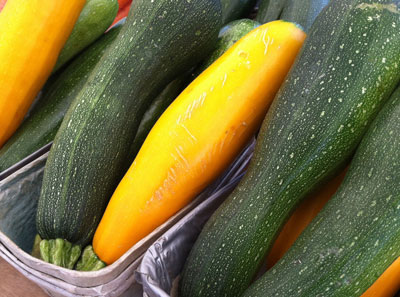 Planting zucchini in your garden is a big commitment. This variety of summer squash is prolific to a fault, leaving you with overflowing baskets this time of the year.
The bumper crop may be daunting even to the most inventive of cooks. But from the most complex stew to a simple grilled side dish, zucchini is as versatile as it is abundant.
Zucchini can be used in cakes, soups, salads, sauces and much more. An inattentive gardener might find a mammoth zucchini hiding under the prickly leaves; at that size they are perfect for stuffing.
Even the lovely yellow blossoms are edible and are often stuffed or delicately fried tempura style.
Best of all, zucchini is easily shredded and freezes well, so you can enjoy its freshness in your cooking and baking all year long.
Here is a fun fact to amaze and delight your friends: Although the zucchini is treated as a vegetable in cooking, botanically it is actually an immature fruit, harvested at about half its possible size.
Fittingly, zucchini has a wonderful sweet flavor that can add moisture to pastries yet is subtle enough to use in savory dishes.
Matt Ellison, executive chef at Muffuletta in St. Anthony Park, loves using zucchini and a variety of other squashes at his restaurant. Through spring, summer and fall, he includes squash in a variety of dishes, including a delicate gnocchi and a flavorful fritto misto with calamari, shrimp and squash medallions.
In winter, as the menu moves away from lighter dishes and toward a heartier profile, Ellison will begin using heavier squashes like butternut and pumpkin.
Getting hungry? Below is a simple recipe modified from myrecipes.com that uses zucchini and other vegetables abundant this time of year. You can substitute any vegetables you like, just be sure they are chopped into same-sized pieces. Use fresh chopped basil instead of parsley for a slightly different flavor.
Fall Pasta Primavera
1 tablespoon olive oil
5 cups peeled, chopped fall vegetables such as zucchini, carrots, turnips, peppers or broccoli
1 clove garlic, minced
1 cup low-sodium vegetable or chicken broth
12 ounces bow-tie or other shape pasta
1/4 cup chopped parsley
1 1/2 teaspoons grated lemon zest
Grated Parmigiano-Reggiano
Heat olive oil in large skillet over medium heat.
Add chopped vegetables and sauté for five minutes.
Add garlic, sauté one minute longer.
Pour in broth. Cover, reduce heat to low and simmer until vegetables are slightly tender.
Transfer to a bowl. Meanwhile, boil pasta in a pot of salted water until al dente.
Reserve 1 cup cooking liquid; drain.
Add pasta to vegetables. Sprinkle with chopped parsley and lemon zest, and toss to coat (add cooking liquid 1 Tbsp. at a time if pasta is dry).
Top with grated Parmigiano-Reggiano.